Rakesh Tiwari
Profile
I have a masters in botany from Kuvempu University, India. Over a period of 9 years, i was involved in two streams of reaserch and developmental activity. The first period at Indian Institute of Science, Bengaluru involved working on projects related to carbon mitigation potential in forests and ecosystem services. I coordinate UK-India research Initiative project where we studied the impacts of climate change on a river basis in Deccan Plateau of India. After almost five years of research, I worked with Fair Climate Network, a coalition of grassroots NGOs in developing sustainable agriculture mitigation projects. My role was to measure N2O and CH4 emissions from cropland soils from across three states in Southern India. I was involved in setting-up or greenhouse gas laboratories, and training technicians in trace gas sampling and analysis. I oversaw the setup and management of sustainable agriculture experimental plots where trace gas sampling was conducted on several cropping systems (such as finger millets, groundnut and rice) implementing various sustainble agriculture concepts.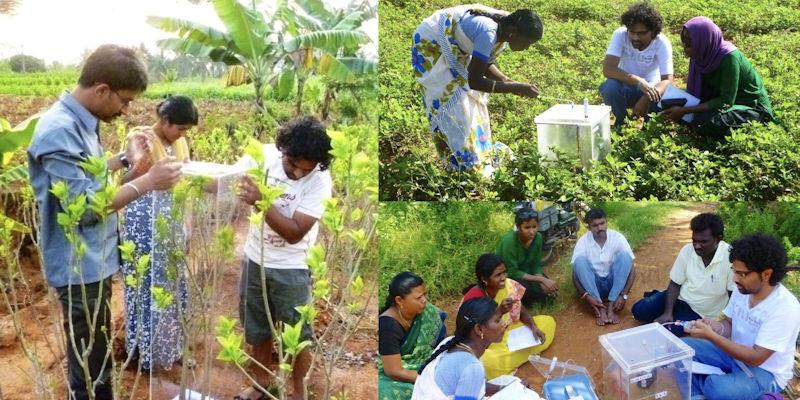 Some photos taken during the GHG measurement and training conducted in Southern India between 2010-2015
Research interests
I am interested in studying the high-temperature sensitivity of tropical forests and crop plants in general. Focusing on the process of photosynthesis, I would like to apply empirical approaches to understanding the sensitivity of tropical forests and smallholder cropping systems in tropical India. My PhD is focused on tropical forest and photosynthetic high-temperature sensitivity, whereas I have experience in agriculture GHG mitigation measurement and sustainable agriculture projects having worked with smallholder communities in India across four states for five years. I would like to expand my research in understanding the temperature sensitivity of smallholder cropping systems in India while continuing to work on Tropical forest temperature sensitivity. I think photosynthetic sensitivity will run as an under stream for both these objectives.
Conferences/training courses attended
2009 January: Regional downscaling workshop, Climate Research Unit, University of East Anglia, Norwich
2010 July: Ecosystem vulnerability to climate change: methods for assessment, observation and forecast. Advanced course from Central European University (CEU), Budapest, Hungary
2014 May: National Centre for Biological Sciences (NCBS) in collaboration with the British Ecological Society (BES),RAINFOR-GEM and University of Oxford workshop on Ecosystem Monitoring and Forest Census Research in South India, NCBS, Bengaluru
2014 October: 4th International Rice Congress organised by International Rice Research Institute, at Bangkok International Trade & Exhibition Centre, Thailand.
Tiwari, Rakesh, Kritee, K., Adhya, Tapan K., Loecke, Terry, Rudek, Joe, Nair, Drishya, Salai, Abhilash. (2015). Sampling guidelines and analytical optimization for direct greenhouse gas emissions from tropical rice and upland cropping systems. Carbon Management, 6(3-4), 169-184. doi: 10.1080/17583004.2015.1082233
Tiwari, Rakesh, Murthy, Indu K., Killi, Jayaram, Kandula, Kalyani, Bhat, Prabhakar R., Nagarajan, Ramjee, Ravindranath, N. H. (2010). Land use dynamics in select village ecosystems of southern India: drivers and implications. Journal of Land Use Science, 5(3), 197-215. doi: 10.1080/1747423X.2010.500683
Tiwari, Rakesh, Murthy, Indu K., & Ravindranath, N. H. (2011). Indicator based approach for monitoring natural resources of village ecosystems: findings from select ecosystems of southern India. Environment, Development and Sustainability, 14(2), 253-271. doi: 10.1007/s10668-011-9320-x
Tiwari, Rakesh, Somashekhar, H. I., Parama, V. R. Ramakrishna, Murthy, Indu K., Kumar, M. S. Mohan, Kumar, B. K. Mohan, Rao, Ananya S. (2011). MGNREGA for environmental service enhancement and vulnerability reduction: rapid appraisal in Chitradurga district, Karnataka. Economic and political weekly, 46(20), 39-47.
I K, Murthy, Tiwari, Rakesh, & Ravindranath, N. H. (2010). Climate change and forests in India: adaptation opportunities and challenges. Mitigation and Adaptation Strategies for Global Change, 16(2), 161-175. doi: 10.1007/s11027-010-9261-y
Kritee, K., Nair, Drishya, Tiwari, Rakesh, Rudek, Joseph, Ahuja, Richie, Adhya, Tapan, Dava, Obulapathi. (2015). Groundnut cultivation in semi-arid peninsular India for yield scaled nitrous oxide emission reduction. Nutrient Cycling in Agroecosystems, 103(1), 115-129. doi: 10.1007/s10705-015-9725-2
Murthy, Indu K, Gupta, Mohini, SonamTomar, Munsi, Madhushree, Tiwari, Rakesh, Hegde, GT, & NH, Ravindranath. (2013). Carbon Sequestration Potential of Agroforestry Systems in India. Journal of Earth Science & Climatic Change, 04(01). doi: 10.4172/2157-7617.1000131
Ravindranath, N. H., Rao, Sandhya, Sharma, Nitasha, Nair, Malini, Gopalakrishnan, Ranjith, Rao, Ananya S., Malaviya, Sumedha, Tiwari, Rakesh, Munsi, Madhushree. (2011). Climate change vulnerability profiles for North East, India. Curr Sci, 101(3), 1-11.
Research groups and institutes
Ecology and Global Change