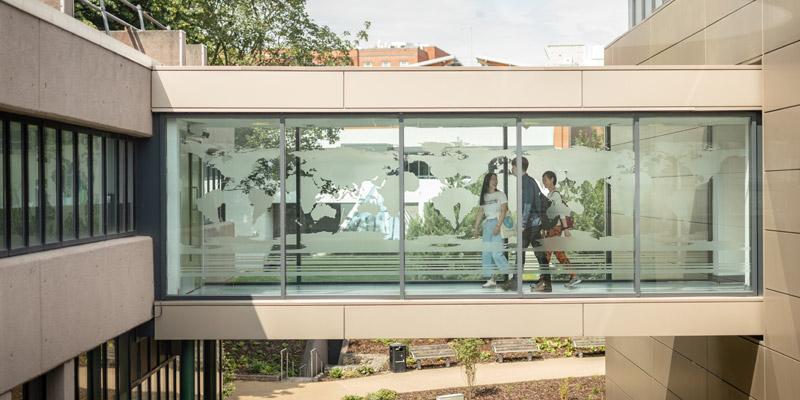 Whilst studying your Masters with us you will be based in the School of Earth and Environment, situated in the heart of campus and home to one of the UK's largest groupings of Earth, environmental and social scientists. During your studies you will have access to specialist labs and facilities relevant to your degree.
We are continually investing in the best facilities for you, and you will find everything you need for your studies right here on campus.
Watch our student tour of some of the School's facilities.

Laboratories
Dependent on the degree that you are studying you may have a requirement for specialist equipment and software.
Our Rock Mechanics, Engineering Geology and Geotechnical (RMEGG) Lab is used by MSc Engineering Geology students for a wide range of rock and soil testing activities. Students will have access to collect, process, test and interpret data related to the geotechnical, mining and petroleum sectors around the world.
The MSc Specialist Laboratory is used by MSc Exploration Geophysics and MSc Structural Geology with Geophysics students for workstation-based teaching and later for individual projects. The dual-screen computers are all kitted out with idustry-standard geophysical processing and interpretation software packages, such as MESA, SeisSpace/ProMAX®, KINGDOM, Petrel™, Geosoft, RokDoc, OpendTect™ and Reveal™.

Geophysical field equipment
The School operates a range of geophysical field survey systems, including gravity, resistivity, radar, seismic and electro/magnetic instrumentation. Students use these systems throughout their BSc, MGeophys and MSc geophysics programmes to explore and understand subsurface structure. They receive training during taught-course programmes, and may elect to undertake a field-based dissertation project using this equipment.

Study areas
The School has a breakout/study space with an accompanying kitchen area where you can study between lectures, or work on group projects. Being so centrally located in campus you are also close by the Students' Union building and it's many café's which offer a relaxing space for studying or catching up with friends. All areas around campus have WiFi access, and if you are studying one of our Earth science Masters degrees then you will have access to the dedicated computer lab with industry-standard software.

Lecture theatres
You will be taught in a range of different lecture theatres and seminar rooms, all with the latest audio-visual technology and professional presentation equipment. There are a number of seminar rooms situated in the School that can be adjusted and rearranged dependent on class size and requirements to offer a less formal environment for group work and meetings.
Some classes may also be taught in central teaching spaces of the University, such as the Roger Stevens building.
University facilities
<iframe width="560" height="315" src="https://www.youtube.com/embed/u4GTHjXbM_Y" frameborder="0" allow="accelerometer; autoplay; clipboard-write; encrypted-media; gyroscope; picture-in-picture" allowfullscreen></iframe>
<iframe width="560" height="315" src="https://www.youtube.com/embed/6hAUrjUXmGQ" frameborder="0" allow="accelerometer; autoplay; clipboard-write; encrypted-media; gyroscope; picture-in-picture" allowfullscreen></iframe>