Safer flights in mountainous terrain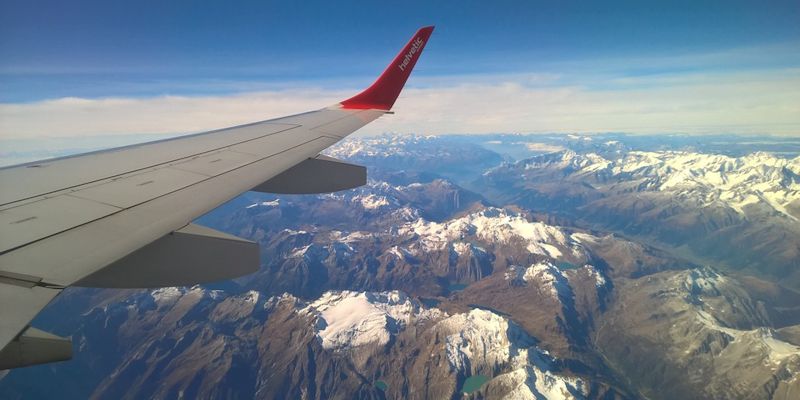 Aircraft can land with increased safety because of a system for predicting severe air turbulence, developed by researchers at the University of Leeds.
The Met Office uses a computer model, based on research at Leeds by Professor Stephen Mobbs, to provide warnings of dangerous air turbulence and gustiness for airports, and for the public to highlight the dangers to high-sided vehicles.
The computer prediction model created by Professor Mobbs and colleagues, called 3D Velocities Over Mountains (3DVOM), originally developed from work commissioned by the Ministry of Defence to develop a turbulence forecasting system for Mount Pleasant Airport in the Falkland Islands, which was experiencing a high level of expensive flight diversions.
Airports located in the lee of a hill or mountain are prone to atmospheric turbulence, known as 'rotor streaming'. Strong winds passing over and around a hill create pockets of highly turbulent spinning air which are dangerous for aircraft. When the atmospheric conditions for rotor streaming occur, flights may be diverted to a safer airport. Although the rotor streaming phenomenon has been recorded regularly since the 1950's, even the weather models developed by the UK Met Office had been unable to resolve the details of these small turbulent air currents which are usually only a few hundred metres across.
Mobbs and colleagues spent two years collecting atmospheric measurements in the Falkland Islands and Scotland, so they could better understand the effects of hills on air currents. This helped them to understand the dynamics of rotor streaming and the physical processes causing the severe turbulence at the Falklands airport.
In collaboration with the Met Office, and further fieldwork in the Pennines and North Yorkshire, the team developed the model to forecast low level wind hazards to vehicles on the A1 trunk road. Further experiments in Switzerland showed the power of the model to predict turbulence in steeper mountains.
The Met Office have fully integrated the 3DVOM model into their forecasting suite and since 2010 it has been used four times each day in the most mountainous UK regions: North Wales, Pennines and Lake District, Grampian and Dartmoor/ Bodmin. It is also used in Northern and Eastern Ireland and the Falklands. All Met Office forecasts of 'gusts' in public weather warnings are based on the 3DVOM model predictions.
The commercial benefits of the 3DVOM model have been apparent in the Falkland Islands where aircraft fly in from Ascension Island, over 7 hours flying time away. If flights are unable to land because of turbulence they are diverted to airports in South America, three hours away.
Costs to accommodate crew and passengers, extra airport charges and additional aviation fuel can reach £250,000 per flight. Weather predictions with the 3DVOM model, up to 12 hours in advance, can hold flights at Ascension until the weather improves, leading to savings of over £1.25million per year and increased safety for passengers and crew.