Rock Mechanics, Engineering Geology and Geotechnical (RMEGG) Laboratories
Overview: Used for a wide range of rock and soil testing activities, collecting, processing, testing and interpreting data related to the geotechnical, mining and petroleum sectors around the world.
Contact name: Dr Chrysothemis Paraskevopoulou
Phone: +44(0)113 343 1449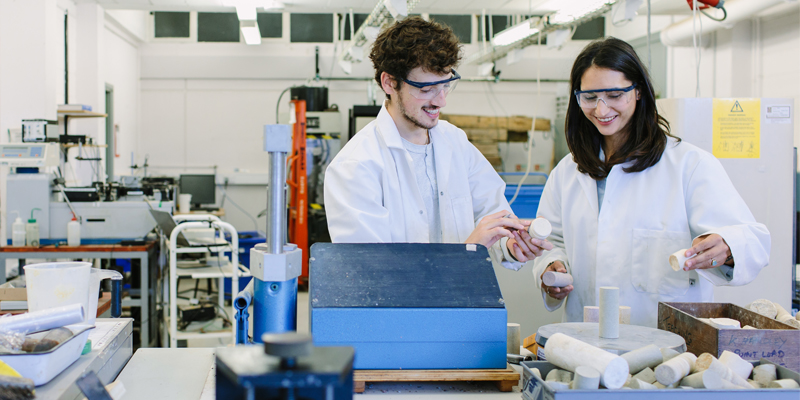 We are able to carry out soil and rock testing from triaxial and uniaxial testing (under different loading conditions), direct shear tests, Density tests to Slake Durability and permeability tests all to ISRM, CIRIA, EuroCode and other recognised standards.
The combined technical experience of the staff and facilities offers a wide range of laboratory testing and reporting to be undertaken.
Equipment
Advantest automatic triaxial load frame,1500kN
Denison load frame, 2000kN
MTS load frame, 2000kN
Weak soft rock load frame, 250kN
Soils triaxial load frame
2MPa normal stress rock shear box
Soils shearbox
Odometers
Ring shear apparatus
Pointload testing
Slake durability test
Hardness test
Applications
The range of tests available means we can calculate material properties such as confined and unconfined compressive strength, relative density and water absorption, Young's moduli and Poissons ratio, creep parameters.
Our laboratories are supported by other departmental laboratory facilities enabling us to compliment tests with thin section analysis, X-ray diffraction, pulse decay permeametry, computerised axial tomography and other advanced techniques to establish the properties and behaviour of rocks and soils.
Who can use the facility?
We are committed to sharing our facilities and associated expertise with external academic and industrial collaborators. To make an enquiry please contact Dr Chrysothemis Paraskevopoulou or Kirk Handley, k.n.handley@leeds.ac.uk.
Members of staff
Academic Lead: Dr Chrysothemis Paraskevopoulou
Technical Lead: Kirk Handley