The Green Public Lecture 2018: "What's under a volcano… and how do we know?"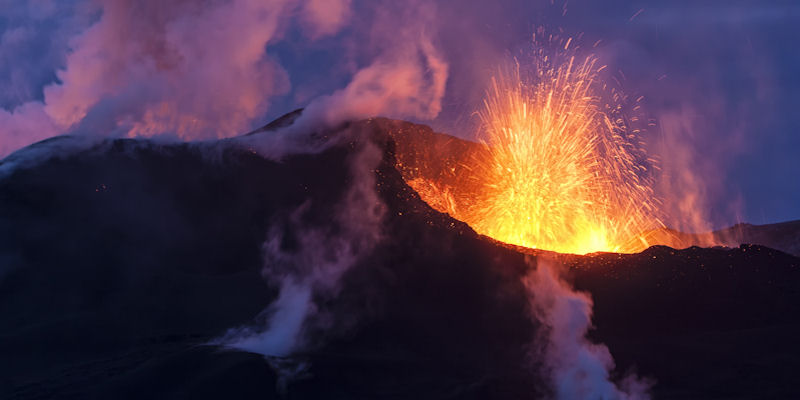 Date: Wednesday 23 May 2018, 18:00 – 19:00
Location: Michael Sadler Building
Type: Conferences and lectures
Cost: Free
The University of Leeds Green Lecture is an annual public lecture given by a world-leading researcher in the field of Earth science.
It is open to anyone to attend and is designed to be accessible to a very wide range of people, especially non-scientists, including those at school studying for their GCSEs and above. It exists to show the public the exciting and fascinating world of the study of the Earth.
This year's speaker is Professor Kathy Cashman of the University of Bristol.
What's under a volcano… and how do we know?
"One of the most challenging problems in Earth Sciences is to "see" into the Earth. This problem is particularly important in Volcanology, where our assumptions about what lies below a volcano shape the ways in which we interpret precursory signals of volcanic eruptions, forecast the nature of eruptive activity, and develop long-term hazard assessments of volcanic regions. In this talk I will review ways in which our assumptions about sub-volcanic systems have changed over the past decade, and how those changes affect the ways which we approach volcanic hazard assessment. Although I will touch on information provided by geophysics and geodesy, my focus will be on what I like to call "reverse engineering" of material erupted from volcanoes, which provide direct evidence for subvolcanic structures and processes."
Tickets
Entry is free. Please reserve your place by registering your attendance. Places are available on a strictly first-come, first-served basis, so register early to avoid disappointment. The lecture is followed by a complimentary drinks reception.
About our speaker
Kathy is a Fellow of the Royal Society and one of the world's most respected scholars studying volcanoes. She is widely known for her work using the composition and texture of erupted rocks to study how eruptions occur and what the interior of volcanic systems looks like. Kathy is currently Professor of Volcanology at the University of Bristol, and was previously the Philip H Knight Professor of Natural Science at the University of Oregon. Before these posts she worked at Princeton University and studied for a PhD at Johns Hopkins University. Her studies have taken her to many of the world's volcanoes, including Mount Saint Helens in the northwestern United States, Mount Erebus in Antarctica, as well as many other locations around the Pacific rim, Hawaii, Europe and Iceland.
About the Green Lecture
The Green Lecture was established in 2017 as a way of allowing everyone to experience first-hand the excitement and fascination that the study of the Earth brings to us in the School of Earth and Environment. Named after the first head of Geology at the University's predecessor institution, the Yorkshire College, Alexander Henry Green paved the way for the world-class research and teaching which now takes place here. The Lecture is aimed at a general audience and on a topic of wide interest in the Earth sciences. It could cover large earthquakes, erupting volcanoes, the Earth's protective magnetic field, and many other things besides.