Exploring the ecological and economic limits of 'the urban' through wasteland farming in Southwest China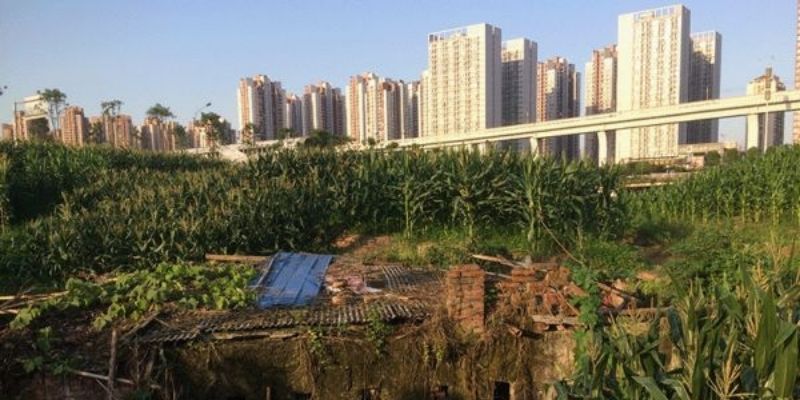 Date: Wednesday 18 May 2022, 12:00 – 12:40
Location: Online
Cost: Free, booking required
The Global Food and Environment Institute (GFEI) is delighted to invite you to join our May 2022 webinar.
During this talk on 'Urban Agriculture as Wasteland Commons: exploring the ecological and economic limits of 'the urban' through wasteland farming in Southwest China', Dr Asa Roast will highlight the findings from his research in this area.
How does rapid urbanisation transform food production and consumption habits on the edge of an emerging megacity, and how does the illegal use of wastelands for urban agriculture challenge conceptualisations of the urban-rural divide? This research draws on 20 months of ethnographic fieldwork to explore the production and distribution of food in the wastelands of Chongqing, Southwest China.
The rapid and expansive urbanisation of Chongqing, Southwest China, has displaced thousands of farmers from rural land and transferred them into urban settlements. This research examines how these residents negotiate the transition to urbanisation through the production of food in the wastelands of a newly urbanised district.
Wasteland farmers engage in informal use of land owned by real estate developers to produce small-scale agrarian crops and processing of meat. The residents making use of this land and food products are drawn into a nexus of debates around the ownership of the land, the effects of pesticides and pollution, the distribution of foods, and the representational politics of rural life which position them ambiguously between rural and urban domains.
This research is soon to be published in the International Journal of Urban and Regional Research under the title 'Theory from empty land: informal commoning outside/within economies and ecologies of the urban'.
Speaker
The event starts with a welcome and introductions from the Chair, followed by a 20-minute webinar presented by Dr Asa Roast, and 10 minutes for Q&A.
Dr Roast is a Teaching Fellow in Human Geography at the University of Leeds. He is an urban geographer and ethnographer with a focus on urbanisation in contemporary China and came to geography through a circuitous path.
After completing an undergraduate degree in History, he studied MA in China Studies at SOAS (University of London), followed by MA in Social and Cultural Geography at the University of Leeds.
He completed his PhD at Leeds, during which time he spent 20 months doing fieldwork in Chongqing, Southwest China. During this time, he was a visiting researcher at Southwest University (西南大学) School of Geographical Sciences.
The seminar will be chaired by Professor Guy Ziv, Professor in Socio-Environmental Systems, University of Leeds.
For more information about The Global Food and Environment Institute, visit the GFEI website.
Book your place here.