SEE student success at the Houses of Parliament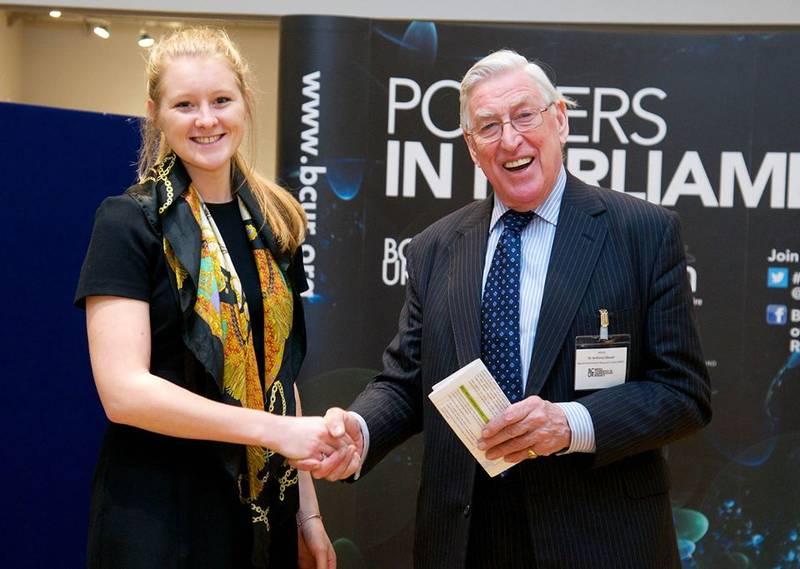 Lucinda McGregor, a final year Integrated Masters student studying Meteorology and Climate Science, was one of two students selected to represent the University at the Posters in Parliament event.
This vibrant event showcases some of the best undergraduate research from selected universities across the country, with students presenting research posters to invited guests, including many MPs. Both students from Leeds were visited by Greg Mulholland, MP, who spent a lot of time learning about their research.
Lucinda's research poster had been shortlisted for the competition section of the exhibition which meant undergoing a rigorous round of questions from a judging panel including Sir Anthony Cleaver, Chair of National Environment Research Council, Professor Mick Healey, Higher Education Consultant and Professor Phillipa Levy, Deputy CEO of Higher Education Academy. Lucinda's research, supervised by Professor Ken Carslaw, is entitled 'The reliability of cloud representation in climate models' will be submitted as her final year project.
It was a very enjoyable day, getting to meet students from universities across the country, who are all passionate about what they study and have an active interest in research. The exhibitions were very inspirational and getting to watch a bit of debating in the House of Commons was great, but the highlight has got to be meeting the Chair of the Natural Research Environment Council, Sir Anthony Cleaver!
The whole day is a really rewarding experience for undergraduate researchers and we were especially pleased this year when Lucinda was awarded a prize for her research.
Posters in Parliament is sponsored by HEFCE and the HEA as well as the University of Central Lancashire and the British Conference of Undergraduate Research (BCUR). This year BCUR is taking place in Winchester on April 20th - 21st. 18 students from across the University (6 from the School of Earth and Environment) will be attending supported by a Footsteps Fund Project award.