SRI PGR Student reports back from GRONEN conference
SRI PGR student Thomas Smith was awarded a SRI bursary to attend GRONEN conference. He reports back:
The GRONEN (Group for Research on Organisations and the Natural Environment) Conference is a biennial gathering that draws researchers from a number of fields, including business strategy, corporate responsibility and management, all united by an interest in issues relating to sustainability in both theory and practice. This year's conference was entitled "Values for Whom? The Changing Role of Businesses in Society".
Preceding the conference, for the very first time, was a two day doctoral consortium. Twenty-two students from across Europe, including two from Leeds, had had papers reviewed and accepted by the GRONEN faculty members. The consortium provided the opportunity to present and receive feedback from give of those faculty members, namely Timo Büsch, Tima Bansal, Nicole Darnall, Frances Bowen, Ed Freeman.
The idea of the sessions was to allow each presenter to go into some depth on an aspect or area of their research on which they were seeking help, and to gain constructive criticism from both peers as well as experts who are unfamiliar with our work. Each delegate had a full hour in which to present and receive dedicated feedback, first from both a peer who had read our paper in detail and then from two of the senior faculty members, as well as wider discussion.
I would recommend the consortium to any PhD student interested in the intersections between businesses and the environment. The process of writing a paper for submission was in itself helpful in aiding self-reflection on aspects of my work where I felt I needed advice. The consortium offered a safe environment in which to present one's work and greater opportunity to receive considered and structured feedback from both experts and peers. The consortium is open to students at any stage: delegates ranged from those at the very beginning of their research to those finishing-up.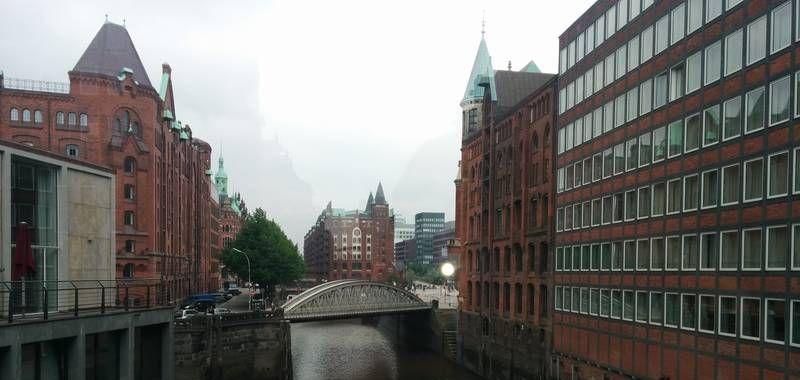 Hamburg City of Bridges, one of Hamburg's canals. Credit: Thomas Smith
In several respects the consortium blended both elements of a summer school and a conference: in being integrated into the conference proper, there were plenty of opportunities to talk to and get to know one's peers over the course of a full week, to learn about alternative literatures and approaches, and just to be sociable in general!
With around 120 delegates in total, the GRONEN conference is a perfect opportunity to meet and converse with some of the leaders in their field in a smaller and more intimate setting. It also makes the whole process a lot less intimidating and far less transactional than is the case at other conferences where you may well stand in line to try and talk to someone. By attending the Consortium in advance I also felt more confident talking about my area of research and understanding what might appeal to others.
In short, I would recommend the GRONEN Consortium and Conference to anyone working on topics relating to business, sustainability and the natural environment. A big thank you to the SRI for making it possible for me to attend!