Masters students publish paper on global food supply chains, attend prestigious international Symposium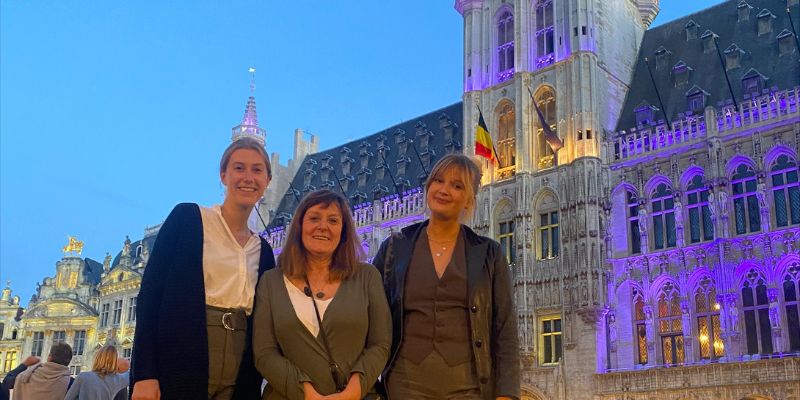 Ellen Dyson and Rachel Helbig have published a research paper, in collaboration with multiple food and sustainability experts, and attended the ILSI Annual Meeting and Science Symposium in Brussels.
The two Sustainable Food Systems MSc students gained a place at the symposium after winning a competition organised by Professor Louise Dye, School of Psychology, who is also ILSI Global Co-Chair and President of ILSI Europe.
The competition
To enter the competition, MSc students wrote a 300-word synopsis of the issues posed for the food system as a result of the Ukraine Russia conflict which was the subject of a multi-expert roundtable webinar organised by ILSI Europe.
The best two summaries were chosen to attend the ILSI Symposium in Brussels and compose the publication. The trip was fully funded by ILSI Europe and the University.
The International Life Sciences Institute (ILSI) Annual Symposium
The 2022 Symposium, 'Toward a Global Community for a Safe and Sustainable Diet', was held in Brussels from the 27th to 30th June.
The hybrid event included scientific sessions on a variety of topics, including managing food safety in the post-Covid era, sustainability practises to aid in climate change mitigation, new technologies to improve food safety and health, and global initiatives from Europe, Asia, Latin America, and North America to improve public health and nutrition science over the next decade.
The publication
The piece is based on a digital roundtable discussion, hosted by ILSI Europe, about the impact of the Ukraine-Russia conflict on global food supply chains.
Potential short-term measures to address the critical supply of oils and other exports were investigated, as well as longer-term steps to increase the resilience of our food system.
Key topics involve global inflation, food safety regarding allergens and malnutrition.
The paper is titled "Impact of the Ukraine–Russia conflict on the global food supply chain: Immediate implications and building future resilience".
Further information
Watch the ILSI roundtable discussion here.
View the publication here.
As Early Career Scientist, it's possible to be part of ILSI Europe expert group activities. More information here.
Discover more about studying a master's at the School of Earth and Environment.