£750k funding signals lift-off for satellite data firm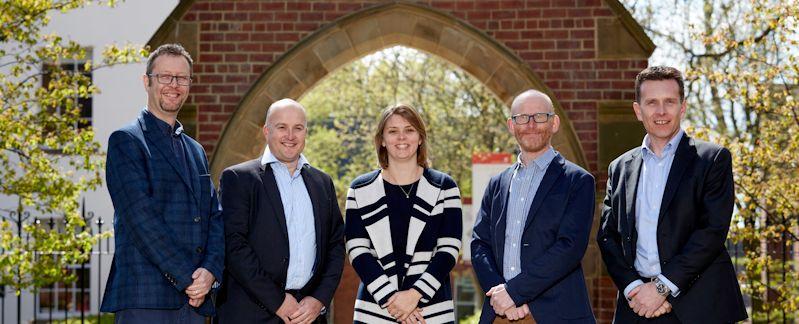 Two University of Leeds professors, who have developed software that detects subsidence using satellite data, have secured £750,000 seed funding to launch the new spin out company SatSense.
The investment comes from NPIF - Mercia Equity Finance which is part of the Northern Powerhouse Investment Fund, Unipart Rail and the University of Leeds.
Professors Tim Wright and Andy Hooper from the University of Leeds have spent more than ten years developing the SatSense algorithms to extract usable and reliable measurements of ground motion from satellite radar images. The investment will allow them to bring the technology to market and recruit a managing director for the business, as well as to expand the development team.
The SatSense approach can precisely measure changes in ground movement down to as little as 1mm per year. These changes can be used to establish the cause of subsidence – for example, tree roots, shallow landslides or pumping of water from the ground. The SatSense results are more accurate, compared to other systems currently on the market, and can provide updates within hours, instead of days or months.
Subsidence data is relied upon by home buyers, surveyors, mortgage lenders and insurers. Satsense results could also have a much wider use in the continuous monitoring of critical infrastructure such as bridges, railways, dams, as well as oil and gas production sites. The company has already received strong interest from a number of potential clients and partners.
Lisa Ward, Investment Director with Mercia Fund Managers, which manages NPIF - Mercia Equity Finance, said:
"While SatSense is a very early stage company, its technology represents a step change in resolution and accuracy over anything that is currently on the market. The team have actively engaged with potential customers and clearly have a product that is in demand. The funding will allow them to take the first step into what is potentially a huge worldwide market."
Andy Duley, Director of Innovation Commercialisation at the University of Leeds, said: "SatSense is the latest example of converting research expertise into a valuable service which directly benefits industry. The University has an established track record in working with private sector investors and leveraging its own funds to launch successful spin-out companies.
"We are delighted to support SatSense, not only through investment by the University but by facilitating easy access for business and industry to this new technology. The launch of Nexus, our new innovation centre, will build on this success by providing easier access for business and industry to the University's world-leading academic expertise. It will bring together a vibrant community of innovators to make collaboration and commercialisation easier."
Noel Travers, Managing Director of Unipart Rail, said:
"Satsense presents an exciting investment for Unipart Rail. The emerging Earth Observation market provides scope for considerable growth over the next decade and Satsense is now well placed to capitalise on this. The resolution and accuracy of Satsense's Software creates new opportunities to better monitor and manage critical infrastructure. Satsense allows cost-effective continuous and real time monitoring of large disparate asset bases, such as rail networks, in way not possible before. We are delighted to be working with the Satsense team."
Ken Cooper, Managing Director at British Business Bank, said:
"We are pleased to see Mercia Fund Managers collaborating with Unipart Rail and University of Leeds to support Satsense on its mission to bring their innovative and disruptive technology to market. This investment represents what can be achieved when the public and private sector work together and as NPIF moves into its second year, we hope to see even more deals like this across the Northern Powerhouse region."
The Northern Powerhouse Investment Fund project is supported financially by the European Union using funding from the European Regional Development Fund (ERDF) as part of the European Structural and Investment Funds Growth Programme 2014-2020 and the European Investment Bank.
Press contacts
For further information, contact:
Jen Lau
Marketing & PR Executive
Mercia Technologies PLC
jen.lau@merciatech.co.uk
Pauline Rawsterne
PR Agent
Turquoise PR
About Mercia Fund Managers
Mercia Fund Managers provides both equity and debt finance to small businesses based in the UK regions. The Group has more than 300 businesses in its portfolio, a strong record including 11 IPOs and manages in excess of £375.0million of third party funds, including Mercia EIS Funds.
Mercia Fund Management Limited is authorised and regulated by the FCA under firm reference number 524856

Enterprise Ventures Limited is authorised and regulated by the FCA under firm reference number 183363

EV Business Loans Limited is authorised and regulated by the FCA under firm reference number 443560
About the University of Leeds
The University of Leeds has created more than 110 spin-out companies, with a market capitalisation in excess of £500 million. Six of these spin-out companies are market listed on AIM, which is more than any other university in the UK. www.leeds.ac.uk
The University is preparing to launch its £40m Nexus innovation and enterprise centre later this year. Nexus will provide business and industry with easy access to world-leading academic experts and their ground-breaking research, high quality facilities and cutting edge equipment at the University. Our research partnerships solve complex challenges whilst delivering economic and commercial impact. www.nexusleeds.co.uk
About Unipart Rail
Unipart Rail is the leading specialist provider of technology and supply chain solutions to the rail industry in the UK and international markets, with offices in the UK, Australia, Middle East and the Far East.
Unipart Rail also includes:
Unipart Dorman - LED signalling and indication innovators and manufacturers

Park Signalling - signalling design and consultancy specialists

Instrumentel - remote condition monitoring specialists for high performance engines and rail applications

Samuel James - switchgear and control gear systems for the rail industry

Key Fasteners - vending and software solutions to supply and track fasteners from the manufacturer to the train.
With over 750 employees, Unipart Rail is a major partner to the rail industry and has extensive expertise in Infrastructure and Traction & Rolling Stock systems and products.
About The Northern Powerhouse Investment Fund
The Northern Powerhouse Investment Fund will invest in Microfinance, Business Loans and Equity Finance sub-funds which will offer financing ranging from £25,000 to £2m, specifically to help small and medium sized businesses secure the funding they need for growth and development.

The Northern Powerhouse Investment Fund is operated by British Business Financial Services Limited, wholly owned by British Business Bank, the UK's national economic development bank. Established in November 2014, its mission is to make finance markets for smaller businesses work more effectively, enabling those businesses to prosper, grow and build UK economic activity.

The Northern Powerhouse Investment Fund is supported by the European Regional Development Fund, the European Investment Bank, the Department for Business, Energy and Industrial Strategy and British Business Finance Limited, a British Business Bank group company.

The NPIF covers the following LEP areas: Tees Valley Combined Authority, Greater Manchester, Cheshire and Warrington, Cumbria, Liverpool City Region, Lancashire, Humber, Leeds City Region, Sheffield City Region, York, North Yorkshire and East Riding

The project is receiving up to £140,359,192 of funding from the England European Regional Development Fund as part of the European Structural and Investment Funds Growth Programme 2014-2020. The Department for Communities and Local Government is the Managing Authority for European Regional Development Fund. Established by the European Union, the European Regional Development Fund helps local areas stimulate their economic development by investing in projects which will support innovation, businesses, create jobs and local community regenerations. For more information visit https://www.gov.uk/european-growth-funding.

The funds in which Northern Powerhouse Investment Fund invests are open to businesses with material operations, or planning to open material operations, in, Yorkshire and the Humber, the North West and Tees Valley.

The British Business Bank has published the Business Finance Guide (in partnership with the ICAEW, and a further 21 business and finance organisations). The guide, which impartially sets out the range finance options available to businesses and provides links to support available at a regional level, is available at www.thebusinessfinanceguide.co.uk/bbb