University – a 'convening power' in climate action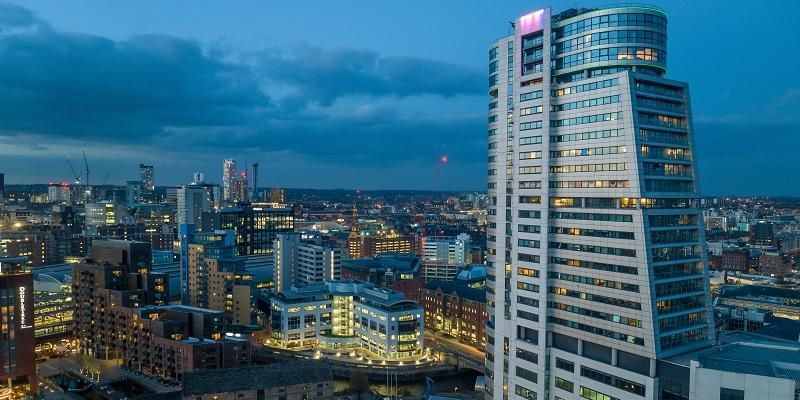 Businesses need to become more sustainable or risk not being able to cope with the shocks of future climate change.
Liz Barber, a former chief executive of Yorkshire Water and now Deputy Pro-Chancellor at the University of Leeds, will tell delegates attending the Yorkshire Sustainability Week conference in the city that they need to look closely at their operations and ensure they have plans that can get them to net zero by 2050.
Net zero involves balancing carbon emissions with removing carbon from the atmosphere. The Government has set a legally binding target for that to be achieved by 2050.
Ms Barber, who also holds several non-executive directorships, said: "Sustainability in business is nothing to fear. In fact, it is critically important to a business's long-term resilience.
I recognise that business leaders do face barriers. The most worrying is that short-term decisions based on financial returns are being made at the expense of long-term thinking.
"My advice to companies is to tell investors that investment in sustainability and net zero is about protecting their long-term interests, and not just this year's earnings."
But she said that she is "absolutely confident" that businesses in the region can become more sustainable.
Yorkshire Sustainability Week, running from 3-7 July, is bringing together businesspeople and leading experts to share ideas and knowledge on the steps that need to be taken to protect the planet, for businesses to become more sustainable and achieve net zero greenhouse gas emissions.
Several University experts will be sharing their research findings and insight.
Circular economy
Dr Jyoti Mishra, from Leeds University Business School, is an expert in the circular economy, which places an emphasis on the reuse, repair, refurbishment and recycling of materials rather than the traditional use, dispose and replace approach. A circular economy business model reduces waste and depletion of finite resources.
She will be sharing the findings of her research into ways of reducing the waste generated by the personal computer market, which every year generates 1.45 million tonnes of electronic waste (e-waste).
The e-waste contains valuable rare metals such as gold, copper, aluminium and steel along with toxic compounds, much of which ends up in landfill sites and results in value loss.
Dr Mishra's research is investigating the application of circular economy principles to help the IT sector recover the valuable metals and the appropriate handling of toxic materials - along with ways to extend the lifespan of products.
She said: "The use of digital technologies such as Artificial Intelligence and the Internet of Things, where products can send data about their performance, will allow manufacturers to monitor the condition of components and objects, extending their life, and to plan for how they can be reused or refurbished.
"Adoption of a circular economy is likely to result in new jobs and reduce carbon emissions."
Dr Mishra is Deputy Director of the AIMTech Research Centre at the University.
Other University researchers due to be joining discussions and talks at the Yorkshire Sustainability Week conference are Professor Stephen Russell, School of Design; Professor Stefan Kepinski, School of Biology; and Professor Vera Trappmann, Leeds University Business School, who will reveal the results of her survey into workers' attitudes to the green economy.
Research into climate change
Staff from the Priestley Centre for Climate Futures at the University will be at the conference to talk about groundbreaking research into climate change and how organisations can collaborate with the University to deliver climate solutions.
They will be joined by members of the University's sustainability service who will talk about the University's living labs and the creation of Gair Wood, which is one of the largest woodland projects in the north of England, near Golden Acre Park in Leeds.
Climate Plan
The University is investing £174 million over 10 years in its own climate plan, to achieve net zero greenhouse gas emissions by 2030. It is the biggest investment undertaken by the University.
In addition, the University has extended £2.35 million in funding to the Leeds Climate Commission and the Yorkshire and Humber Climate Commission, which aim to foster various projects to reduce carbon use and build a climate-resilient future.
'Convening power'
For Liz Barber, the University, along with other higher education institutions, are a "convening power" in knowledge sharing around climate change, one of the biggest issues facing humankind.
She added: "As anchor institutions, universities can play a huge role and Leeds is a prime example of the support it gives to the Yorkshire and Humber Climate Commission but also its convening power in the region.
"Leeds is investing £174m in its climate plan and its research is having a major impact on our understanding of climate change and ways of dealing with its impact on communities and food supplies.
"The geopolitical and global economic consequences of climate change are so far-reaching. Universities are needed to help the global community work through this major challenge."
Kate Hutchinson, the founder of Yorkshire Sustainability Week, said: "It has been fantastic to have the University of Leeds as a headline sponsor of Yorkshire Sustainability Week 2023. Universities have a vital role to play in fostering sustainability and driving change. As a centre of knowledge and innovation, the University of Leeds is educating and empowering our future sustainability leaders of tomorrow, today.
"Through research, partnerships with the business community and outreach, universities have a unique role in creating a more sustainable society. It is vital that the business community engages with educational institutions and we're proud of our relationship with The University of Leeds."
More information
For additional details, please contact David Lewis in the press office at the University of Leeds by email d.lewis@leeds.ac.uk.