Imogen Rattle from the Royal Geographical Society & Institute of British Geographers conference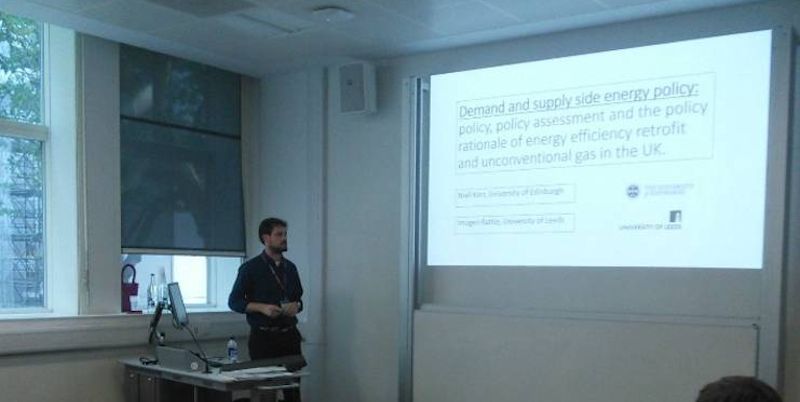 I've been to a number of conferences but never one on the scale of the Royal Geographical Society & Institute of British Geographers annual international conference, held this year at Imperial College
With up to thirty sessions running at any one time, across forty-two different venues, it soon became clear the main challenges would be avoiding becoming overwhelmed by choice and/or lost.
Determined to make the most of my SRI bursary, I had signed up to take part in three sessions, chairing one, presenting at a second and a joint author on a paper for a third, all under the sponsorship of the Energy Geographies working group. First though, I had the opportunity to attend at a number of useful sessions run by the newly-formed Digital Geographies working group, discussing the influence of new media on local government and planning and in particular the success of attempts to enable greater civic participation through these tools.
The second day began with Changing Norms in the Energy System a session which saw presentations from three members of the University of Leeds Faculty of Environment - Pip Roddis, Giulio Mattioli and James Van Alstine - alongside Ian Bailey from the University of Plymouth and Itay Fischhendler from the Hebrew University of Jerusalem. The session brought together research from across the developed and developing world to examine the variety and complexity of energy system norms. Many thanks to all our presenters, and to Ross, Jamie and Niall for co-convening the session with me.
The following day it was time to present some initial results from my own research on the influence of online resources on the English shale gas debate to the Governance, energy and injustice session, and receive some encouraging feedback…
The final session saw another SRI postgraduate researcher Niall Kerr presenting a comparison of the policy assessment process for shale gas and energy efficient retro-fit, to unpack the underpinning rationales for these policies.
Flushed with success at successfully navigating the complexities of my first super-conference, I headed back to Kings Cross station for the trip back to Leeds where I sat for fifteen minutes on the wrong train. Fortunately it appears that a good sense of direction is not a pre-requisite for attending at the conference.
Imogen was funded to attend the conference by a Sustainability Research Institute Bursary, give to PhD students to enable them attend conferences and their conference and other travel needs related to the dissemination and impact of their research or fieldwork.