Outstanding Digital Innovation at the Times Higher Awards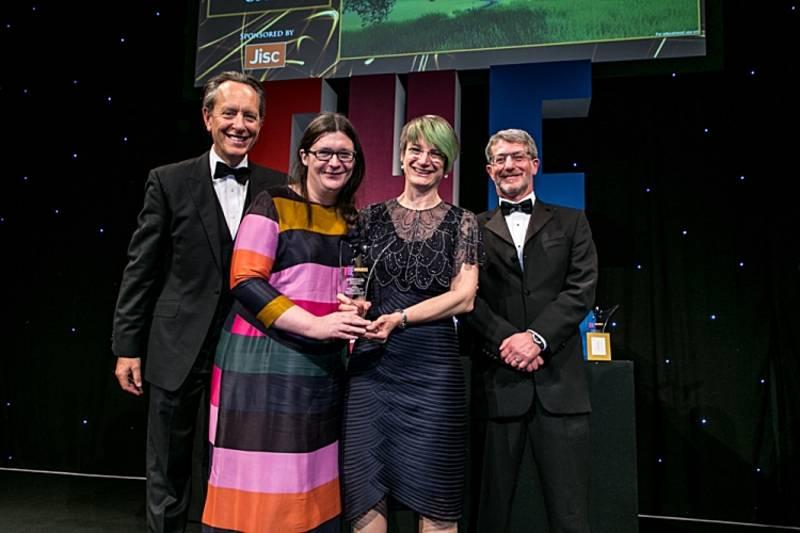 Students on courses with a Geology element can use the tool developed by the Virtual Landscapes team at the University of Leeds and Leeds College of Art to help them to prepare for field work.
Winning the award for Outstanding Digital Innovation in Teaching or Research, the tool enables students to explore a virtual landscape as they would a real one, interacting to collect real-time data, determine location, and map regional geology. This means that time can be used more profitably when they are out in the field.
The tool can also be used by students who cannot undertake fieldwork due to illness or injury, enabling the same skills and processes to be taught in a manner not previously possible.
Dr Jacqui Houghton, from the School of Earth and Environment at the University of Leeds, is director of the Virtual Landscapes project.
She said: "This is a fantastic example of team working, using experts from different disciplines and institutions to find a solution to a problem we had been grappling with for some time.
"Virtual Landscapes was developed from a pencil and paper exercise into a tool that has revolutionised the way that students learn about geology."
Professor Randall Whittaker, Director of Studies at Leeds College of Art, said: "We are absolutely thrilled to have won the Outstanding Digital Innovation in Teaching or Research Award at the Times Higher Education Awards 2016, the most prestigious awards for the UK education sector.
"This collaborative project demonstrates the benefits of using the creative and digital skills of our staff and students to address real-world problems and deliver engaging digital solutions."
The tool has been so successful that it is being evaluated by other UK Universities, including Keele, Durham, and Liverpool, and used in universities in the USA, South Africa and Guyana.
The awards were presented at a ceremony hosted by actor Richard E. Grant in London last night.