Meeting the global challenges of water security and urban disaster planning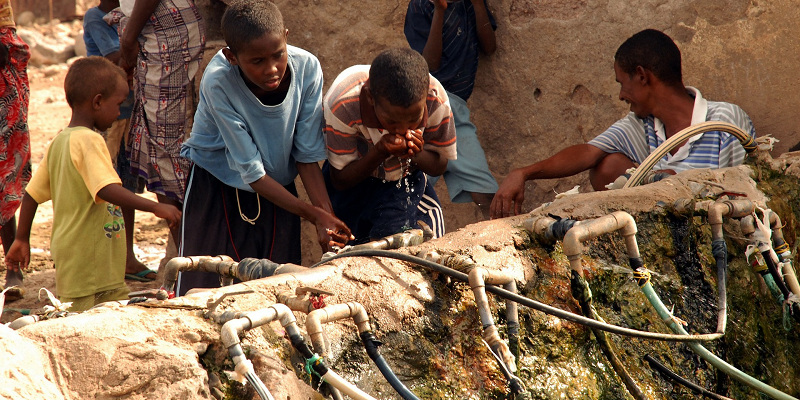 Researchers from Leeds are partners in two pioneering international collaborations to develop new approaches to the global challenges of improving water security and urban disaster risk management.
The projects are part of an ambitious new initiative established by UK Research and Innovation (UKRI), as part of the Global Challenges Research Fund (GCRF). The new scheme will invest £200M across 12 global Research Hubs to tackle some of the world's most pressing challenges.
A team at the University of Leeds is a key partner in the £17.7 million Water Security and Sustainable Development Hub. This international partnership of 55 organisations from 12 countries includes collaborators from Colombia, Ethiopia, India, Malaysia, and the Universities of Newcastle and Oxford.
Eighty per cent of the world's population lives in areas threatened by water security, made worse by pressures such as pollution, urbanization and land degradation. The Hub will collect scientific data and engage with stakeholders, from local communities to NGOs and government ministries, to find new solutions for water security issues.
The water@leeds researchers will contribute expertise in resource recovery from wastewater and faecal sludge (Dr Miller Alonso Camargo-Valero); sanitation, hygiene and water services in the global south (Professor Barbara Evans); global water resource modelling and remote sensing datasets (Dr Mark Trigg); institutional change, politics of impact, political ecology and co- production (Dr Anna Mdee); and capacity-building, gender and development (Dr Lata Narayanaswamy).
Dr Miller Alonso Camargo-Valero (Co-PI at Leeds) says "this new project will help to identify the barriers holding back the delivery of sustainable water services by considering the multi-dimensional complexity of water". It will incorporate a wider range of value perspectives including religion, environment, gender, social circumstances and culture, that take into account the need for equity and the basic needs of the poor and the vulnerable."
A second team of researchers from the School of Earth and Environment, will bring expertise in satellite observation of the earth's surface, as a key component of new Urban Disaster Risk Hub, led by the University of Edinburgh. This £17.6 million hub will work with international agencies to strengthen risk assessment in urban areas in the face of global hazards such as earthquakes, volcanic eruptions and extreme weather which can threaten life in many cities.
The work will focus on the urban centres of Quito, Kathmandu, Nairobi and Istanbul, bringing community and government leaders together with researchers to strengthen risk decision making and the voice and capacity of the urban poor, who are often most affected by natural disasters.
Working together with local scientists, the Leeds team will use satellite radar to measure ground deformation around volcanoes and fault zones near to the cities, to detect changes indicating that an eruption or earthquake is likely. Dr John Elliot will also use satellite data to map the land surface and building quality in these regions to pinpoint the likely path of lava flows or which building could be most at risk from collapse. Professor Tim Wright, who is part of the research team, explains, "We hope to create fundamental data sets which can be used to develop models that make disaster risk assessment more accurate for local scientists and leaders involved in disaster planning."
Dr Susanna Ebmeier has worked extensively in Quito and will be continuing to share expertise with the next generation of scientists through a new PhD student from the Republic of Ecuador.
The Leeds work will feed into a much larger pool of data generated by 54 partner organization in 12 countries, which the overall aim of influencing global urban policy and practice.
This new project will help to identify the barriers holding back the delivery of sustainable water services by considering the multi-dimensional complexity of water.
The new Hubs, announced in detail on 22nd January 2019 by Science and Universities Minister Chris Skidmore, are funded through the Global Challenges Research Fund (GCRF). This is a key component in delivering the UK AID strategy and puts UK-led research at the heart of efforts to tackle the United Nations Sustainable Development Goals (SDGs).
For more information about UKRI and the GCRF Hubs, visit: www.ukri.org