Sampling world-leading science
Maths, artificial intelligence, robotics and fluid dynamics were on the agenda when Universities Minister Chris Skidmore visited the University.
In the region on yesterday as part of a fact-finding visit, the Minister of State for Universities, Science, Research and Innovation, was at our innovation hub, Nexus, to hear about internationally-important research and teaching undertaken at Leeds across these key areas.
He also met talented early career researchers and spoke to two of the businesses based within Nexus – Vet AI and Scaled Insights.
Vice-Chancellor Sir Alan Langlands, who welcomed the Minister along with Professor Lisa Roberts, Deputy Vice-Chancellor: Research and Innovation, said: "We welcome the opportunity to highlight how work at Leeds is focused on solving some of the world's most pressing problems, whilst boosting private sector R&D, jobs and economic progress in Leeds.
We welcome the opportunity to highlight how work at Leeds is focused on solving some of the world's most pressing problems.
"Our research has great impact because our researchers work in multi-disciplinary teams, spanning engineering, science and health disciplines, large and small companies and the public sector.
"In this way, we are helping to transform human health, address the impacts of climate change, transport, engineering design and security."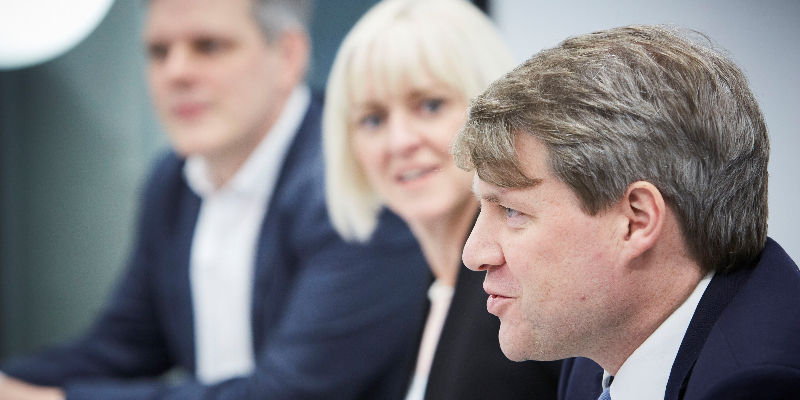 The University has one of the largest mathematics research departments in the UK, delivering high-impact research across applied mathematics, financial mathematics, pure mathematics, and statistics.
Researchers in the School of Maths are actively involved with colleagues across the University working to solve a wide range of societal challenges, including Leeds Institute for Data Analytics and the Leeds Institute for Fluid Dynamics (LIFD).
Fluid dynamics: going with the flow
The Universities Minister met key researchers from LIFD, a cross-disciplinary research institute that brings together the expertise of more than 200 members of staff, postdoctoral and PhD researchers.
Leeds has a 50 year interdisciplinary track record of research and a strong international reputation in fluid dynamics, which lies at the heart of numerous challenges faced by industry and society across the world.
Chris Skidmore's tweet following his visit to the University of Leeds.
Fluid dynamics focuses on fundamental physics and underpinning methodologies for fluids as well as applications across energy and transport; environmental flows; geophysical and astrophysical flows; biomedical flows; and industrial processes.
The University hosts the UK's only centre for doctoral training (CDT) in fluid dynamics, funded by the Engineering and Physical Sciences Research Council (EPSRC), which will train more than 50 PhD students over five years.
Read more about fluid dynamics at Leeds.
Artificial intelligence, real advances
The Minister also learnt more about Leeds' contribution to the rapid evolution of artificial intelligence. The University is leading the way by exploring the integration of advances in deep learning, symbolic reasoning, vision, language and robotics.
In the health domain, amongst other nationally-important research centres, the University leads the UKRI Centre for Doctoral Training in Artificial Intelligence for Medical Diagnosis and Care, partnering with the Leeds Teaching Hospitals NHS Trust and several other key industry and public sector organisations.
Read more about artificial intelligence at Leeds.
Pioneering robotics
The University also hosts the £4.3m EPSRC National Facility for Innovative Robotic Systems, providing academic leadership in robotics and autonomous systems, expanding collaboration with industry and integrating and coordinating activities across the research council's activities in this discipline.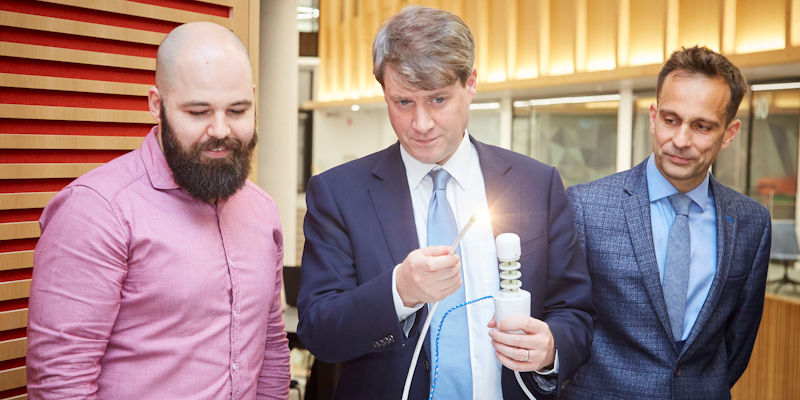 Other pioneering robotics work at Leeds is carried out by its Science and Technologies of Robotics in Medicine (STORM) Lab, where researchers work across several fields of surgical robotics to enable earlier diagnosis, wider screening and more effective treatment for life-threatening diseases such as cancer.
Read more about Robotics at Leeds.
Connecting business and research
The backdrop for Chris Skidmore's visit today was Nexus, the University's innovation hub that connects business to its world-leading research capabilities, talent and facilities, building on a strong reputation for transforming academic research into commercial success – Leeds has created more than 110 spinout companies in the last 25 years.
The £40m Nexus initiative, which opened last May, was part-funded with a £3m investment from West Yorkshire Combined Authority as part of the Leeds City Region Growth Deal.
Nexus is now supporting a growing community of members comprising technology-led, high-growth businesses aligned to key areas of strength and expertise at the University.
Successful collaborations between the University and Nexus members have already attracted more than £5.3m of research funding.
Regional leader
The University is leading a Leeds City region team through the Massachusetts Institute of Technology (MIT) Regional Entrepreneurship Acceleration Programme (REAP) run by the Sloan School of Management.
The programme will ensure that Leeds continues to be the city of choice for entrepreneurs and start-ups and provides the right support and infrastructure for innovation driven entrepreneurship.
Find out more information about Leeds' place on the REAP and its successful bid to host the MIT REAP workshop.