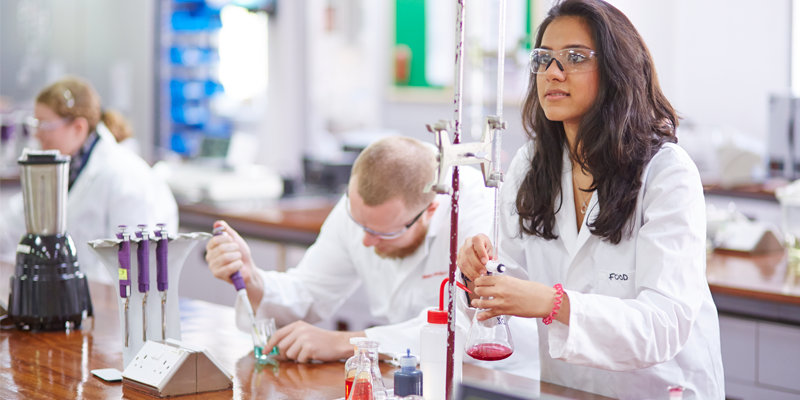 Top five in the UK for Nutrition and Food Science, Guardian University Guide 2024
We are globally renowned for our teaching and research across the whole spectrum of food, from the molecular level to how food affects our body and how our diet is influencing our health. We have just over 600 students from almost 50 countries studying with us.
The quality of our research, and the funding it attracts, means we're able to invest in world-class facilities and academic staff who are actively engaged in cutting-edge research, which means you will be taught by internationally renowned, inspirational academics working at the top of their fields.
Keep up to date with what's happening in the School by following us on Twitter.
Academic excellence
Gender equality
We have been commended for our strong and continued commitment to gender equality in the form of a prestigious Athena SWAN Bronze award.
Research Excellence Framework (REF) 2021
Every six years, the UK's four higher education funding bodies undertake an exercise to measure the quality of research undertaken by UK higher education institutions (HEIs). The funding bodies use the outcomes to inform the allocation of their research funding to HEIs.
Unit of assessment: Agriculture, Veterinary and Food Science
100% of our submitted research environment was classified as being conducive to producing research of either world-leading or internationally excellent quality in terms of vitality and sustainability
91% of our submitted research outputs are classed as world-leading or internationally excellent in terms of originality, significance and rigor
86% of research activity is rated as either 'world-leading' or 'internationally excellent
66% of our submitted research has impact classed as 'world-leading or internationally excellent'
Industrial Advisory Board
Our Industrial Advisory Board comprises academics and representatives from industry. The Board provides a strategic view from the industrial community on our research, student education, innovation, and external engagement activities.