Lucy Garman
Course: Food Science MSci, BSc (Industrial)
Nationality: British
Lucy Garman is a fourth year Food Science MSci, BSc student, who has completed an Industrial placement year in new product development at the 1:1 diet by Cambridge Weight Plan (CWP).
A year in industry
CWP develops meal replacement products for weight loss. Lucy assisted in the creation of new concepts, the development of recipes, and the testing of products in the factory. She was even fortunate enough to see the successful launch of one of her products.
"I'd always wanted to do a year in industry as I'd heard such great things from the university and students who had completed placement years previously."
I wanted to gain as much experience as possible to improve my knowledge of the food industry ready for my final year and career. I've enjoyed my time at CWP so much that I know new product development is the career for me.
The new product development team at CWP
Choosing Food Science
Lucy loved science at school, specifically chemistry. However, she discovered she was most interested in how chemistry was applied in the real world.
"While in year 11 I came across Food Science in the Leeds prospectus and, after doing some research, I loved the sound of the course and the future careers. I was then lucky enough to get a place on the Food Science Summer School at the university."
The summer school was incredible. We completed a few practicals, had talks about the courses and even got to stay in halls. I met some friends for life and knew then that food science was what I wanted to do.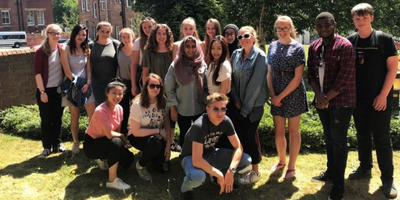 Lucy at Food Science summer school
Sustainability initiatives
During Lucy's second year, one of her modules focused on developing a sustainable and innovative product.
"This module was great, and it really made us think outside of the box. My group chose to develop instant noodles which were made from insect flour (a sustainable protein source). It was really interesting to see what new ideas could be brought into the market."
Making a difference
"Without food humans wouldn't exist… At CWP our products completely change people's lives, as we help improve their health. The thought that one of the products I have developed has helped someone lose enough weight to lengthen their life and have a better quality of life is so rewarding."
Future ambitions
Once Lucy graduates with her master's, she hopes to start a career in new product development for a big company such as Mondelez or Pepsico.
Everything I've learnt on my course will definitely be translated into my career, especially the practical knowledge; I've already applied a lot of that into my placement.
"Also, things like living on my own and participating in sports teams have really taught me to balance social and work life."
Lucy and her teammates from Rugby Union at Leeds
"I couldn't recommend the course enough and do a placement year if you can! Really spend your time soaking up all you can about food and the food industry, because you learn so much from the course."
"Also, join a couple of societies as it's such a great way to make friends for life. Coming to Leeds to do food science was definitely the best decision I've made, I've loved everything about it!"
Join us
Discover more about our degree courses within the School of Food Science and Nutrition.