Dragons' Den soars with the highest number of team entries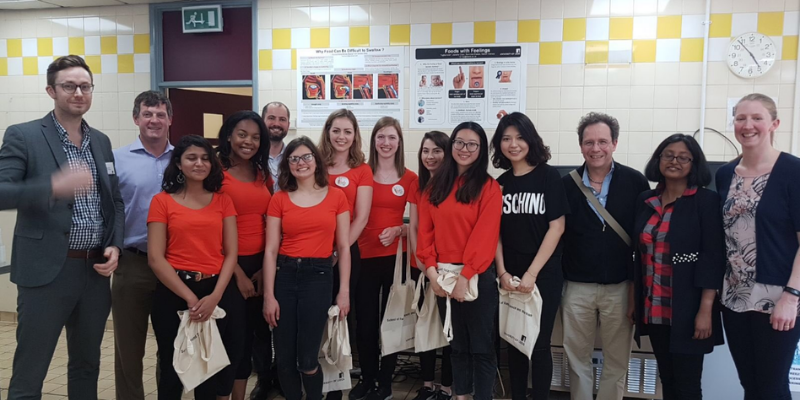 In May 2018, the School of Food Science and Nutrition with the support of its sponsor, Marks and Spencers, held its annual Dragon's Den project competition open to the School's undergraduate students.
The competition drives creative thinking around food processes and manufacturing and enables students across the School of Food Science to work as a team and explore new product development ideas.
Split into ten teams, students dedicated 12 months to producing, experimenting and manufacturing an exciting and delicious new snack, prior to the competition taking place.
In this year's brief, undergraduate students were challenged to produce a tasty new snack, which had to be:
Eco-innovative
A fast food snack
With restrictive calories
This meant students had to consider sustainability and package recycling issues, the convenience of a fast food snack, and how to ensure it was healthy for the consumer.
This challenging an exciting project allowed students to gain valuable experience in developing new products and pitching their ideas to leading experts in the food industry. This years' Dragon's Den consisted of five influential figures from both the University and the industry.
Paul Taylor (Pro Dean for Education, University of Leeds)
Owen Evans (Marks and Spencer)
Amelia Carroll (Mondelez)
Paul Sheldrake (Healy Group)
Luke Watson (Commercialisation, University of Leeds)
This year saw the highest number of team entries, and the ten participating teams developed new products ranging from Dip n' Dough, Fill-afel, Vietnamese Rainbow wraps to 100% offal meatballs. All participating teams hoped to 'wow' the panel of 'dragons' and take home the cash prize which was sponsored by Marks and Spencer.
The students were assessed by the 'dragons' on criteria such as product development, marketing and product launch, legislation and labeling meeting quality and safety requirements, commercial viability and industrial implementation and, of course, their presentation skills. The students' all presented fantastically and this was both noticed and commented on by the 'dragons' who appreciated the high-standard set throughout the day.
This year's undergraduate winner Dragon's Den 2018:
Team G's with their Vegan bar 'Roots'
Congratulations to all our teams! We wish you all the best for the future successes and thank you all for taking part!