School of Food Science and Nutrition recognised Women of Achievement Roll of Honour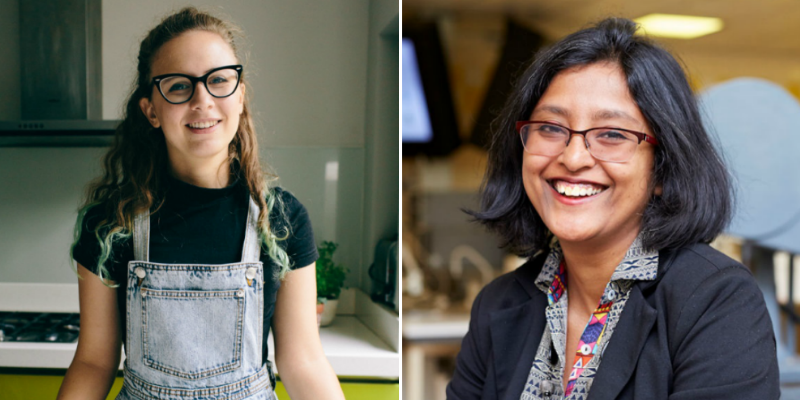 Food Science and Nutrition student Izy Hossack, and Associate Professor of Food Colloids Dr Anwesha Sarkar have been recognised by the Women of Achievement Roll of Honour 2018.
Held for the fifth time, the Awards are a key part of the University's Leeds Gender Framework. They celebrate the significant contributions and impact that the winners have made across the University and beyond. The women receiving awards were all nominated by their peers, and represent academic and professional staff, as well as students, and are drawn from across the University. Along with the winners, the judging panel selected five further female colleagues to appear on the Women of Achievement Roll of Honour:
Izy Hossack, Student, School of Food Science and Nutrition
A Food Science and Nutrition student who turned her award-winning blog – Top with Cinnamon – into a cookbook which is recognised internationally.
Dr Anwesha Sarkar, Associate Professor of Food Colloids, School of Food Science and Nutrition
Recognised for her contributions to the field of oral processing. In 2017 she was awarded €1.3m by the European Research Council.
All eight of the University's faculties were represented in the Awards, as was the Leeds Doctoral College and professional services such as Educational Engagement, Sustainability Services, and Strategy and Planning, showing how excellence is being achieved throughout the institution.
The winners are as follows:
Dr Claire Eldridge, School of History - Awarded the Royal Historical Society's Gladstone Prize
Professor Claire Honess, School of Languages, Cultures and Societies/Leeds Doctoral College - Founder of the Leeds Doctoral College
Dr Cristina Stefan, School of Politics and International Studies - The British Academy Rising Star Engagement Award (March 2017)
Professor Fiona Meldrum, School of Chemistry - Awarded the 2017 Interdisciplinary Prize of the Royal Society of Chemistry
Professor Jane Nixon, Leeds Institute of Clinical Trials Research, Faculty of Medicine and Health - Made a Member of the Order of the British Empire (MBE) for services to health research (2017)
Dr Julia Steinberger, School of Earth and Environment - Leverhulme Research Leadership Award (2017)
Dr Katie Field, School of Biology - Biotechnology and Biological Sciences Research Council Translational (David Phillips) Fellowship (2016-2021), Philip Leverhulme Trust Prize (2017), Rank Prize New Investigator Award (2016)
Lenka Vráblíková, School of Fine Art, History of Art and Cultural Studies - After her leading role in organising the international 'Feminist Readings' conference at the University in 2016, Lenka helped to secure funding for the 'Feminist Readings Network' from the Gender and Education Association.
Louise Banahene, Head of Educational Engagement - Awarded an MBE in the New Year's Honours (2018) list for her services to Higher Education
Dr Louise Ellis, Sustainability Services - Attainment of ISO14001, a University-wide, accredited, Environmental Management System which provides a framework to systematically assess and track our environmental legal compliance, winner of six Green Gown awards for Sustainability practices, winner of the Carbon Trust Energy award for best Sustainability Communications Campaign
Dr Pamela Macpherson-Barrett, Head of Policy, Funding & Regulation, Strategy & Planning - Played a leading role in the University's Teaching Excellence Framework submission, for which the University was awarded Gold.
Professor Pınar Akman, School of Law - Awarded a Philip Leverhulme Trust Prize (2017)
Professor Wändi Bruine de Bruin, Centre for Decision Research, Leeds University Business School - Made Fellow of the Psychonomic Society (US), made Fellow of the Network for Studies on Pensions, Aging, and Retirement (NETSPAR).
The Awards were hosted by Professor Lisa Roberts, Deputy Vice-Chancellor: Research and Innovation. Alumna and Chief Executive of the Southbank Centre, Elaine Bedell, gave a keynote speech and presented the winners with their award certificates.
Portrait photographs of the award winners will shortly be installed as part of a permanent exhibition in Parkinson Court. The images of this year's winners will join those of the 50 women recognised in previous Women of Achievement Awards, helping to create an enduring showcase celebrating the University's talented and remarkable women, and providing exemplary female role models to inspire other staff and students in their career development.