Postgraduate students are joint-winners of the Piers Sellers PhD Prize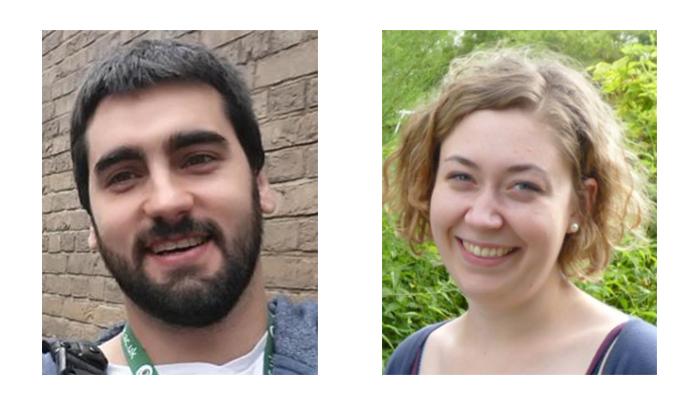 Two students from the Faculty of Environment were awarded the Piers Sellers PhD Prize at a ceremony earlier this week.
Jesus Vergara Temprado, School of Earth and Environment and Institute for Climate and Atmospheric Science and Kate Palmer, Road Transport research group were joint winners of this year's prize, presented by the Priestley International Centre for Climate.
The annual prize recognises PhD exceptional research that furthers understanding of climate change and how to address it, and is named after Leeds alumnus, climate scientist and astronaut Piers Sellers. Winners receive £1500 to further their studies.
"Jesus very much deserves this prestigious prize, having made the rare connection all the way from laboratory experiments through to changes in our understanding of the climate system." said Professor Ken Carslaw, one of the supervisors, along with Ben Murray and Paul Field, to nominate Jesus for the award.
Affiliated to the Institute for Climate and Atmospheric Science, his pioneering research focuses on modelling of ice nucleating particles in the atmosphere and was the lead author of a paper published in Proceedings of the National Academy in March this year.
Kate Palmer, who is part of the Road Transport research group, was nominated by her supervisor Dr James Tate. Her research, published in January, has discovered that battery electric vehicles (BEVs) now offer the lowest total cost of ownership over three years in the UK, Japan and the US.
"Kate Palmer's research has undoubtedly raised the profile of this turning point, where the cost of electric vehicles has fallen below that of standard combustion engine cars for the first time in many developed countries …This has benefits for both local air quality and our climate." said Dr James Tate, of the award.
The formal event was also attended by Gavin Schmidt, renowned climate scientist and Director of the NASA Goddard Institute for Space Studies, who presented the postgraduate researchers with their awards and gave an inspiring talk on his work.
Related articles

Priestley International Centre for Climate – NASA Goddard Director Gavin Schmidt to present Piers Sellers PhD prize