Exploitation of immigrants rife in detention centres run for profit
Dr Deirdre Conlon warns that the privatisation of detention centres is leading to unjust and unsafe treatment of migrants, including asylum seekers.
Dr Conlon of the School of Geography and collaborator Dr Nancy Hiemstra (Stony Brook University) uncover the 'detention economies' of privatised immigrant detention centres, including cheap labour and high food prices.
Their research highlights the dangers of building detention economies on the welfare of migrants and their families as well as these governments' migration policies.
Detention economies
In the UK, the Home Office contracts out the management of detention facilities to private providers and prisons.
In the U.S., most detainees are held in private facilities. However, state and local governments still offer contracts and subcontracts to private operators for their services.
Both the governments and the private operators of detention centres seek to generate revenue from them. The contractors, as private businesses, try to maximise their profit by lowering their costs and increasing opportunities to earn.
In her essay in a collection by the Justice, Arts and Migration Network, Dr Conlon explains the effect of this.
Beyond confinement and control, detention conditions become productive zones of social abandonment where food provision, medical care, and even basic hygiene items such as soap are inadequate.
Dr Conlon and Dr Hiemstra uncovered this mistreatment of migrants in detention through Freedom of Information requests, advocacy reports and interviews with former stakeholders and detainees.
This is one example of the mistreatment of migrants, among others. A book published in 2015, co-authored by Dr Stuart Hodkinson, Professor Louise Waite, Dr Hannah Lewis (University of Sheffield) and Professor Peter Dwyer (York), describes instances of forced labour for asylum seekers in the UK.
They explore how the socio-legal status of migrants allows others to exploit and abuse them. In some cases, migrants' pay was withheld from the labour they completed for their employers; in others, they were forced to work overtime that exceeds the limits set by employment law.
This is another aspect of what Dr Conlon describes as 'distortion of labour'.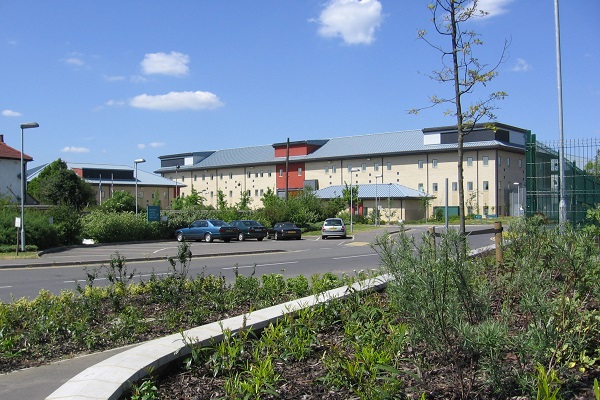 Labour in detention centres
Dr Conlon describes how value and labour are distorted within detention facilities as well.
For example, if the migrants are hungry due to not being fed adequately, they must buy additional food from the centre's commissary.
If the migrants in detention centres are hungry due to not being fed adequately, they must buy additional food from the centre's commissary.
To fund this, their options are to earn money at the centre or rely on external help to pay money into their 'commissary account'.
Both are exploited for profit by the centre operators.
Detained migrants can legally be paid much less than minimum wage. Migrant detainees who work at the centres are defined as 'volunteers' and they are paid an average of $1 per day in the US and £1-£1.50 per hour in the UK.
There's another easy way for centres to make money: transaction fees. Whenever somebody pays into a commissary, they also pay transaction fees of around $5 for every deposit.
What's more, commissary prices are between 2 and 7 times more expensive than shops outside of detention facilities.
Dr Conlon also noted that to support a detained loved one, their families take on additional work to be able to give them money.
Profit over people
There is ongoing discussion in the UK about safe routes for refugees and the hostile environment created by the government.
In 2020, School of Geography researchers Dr Hodkinson and Dr Waite co-authored a paper that explored this in detail, particularly critiquing the Modern Slavery Act of 2015 for excluding migrants and thus contributing to their victimisation.
With this in mind, it's important to understand how influential private sector providers are to policy in our country and others.
As immigration detention grows as an industry for the businesses and employees involved, the main way that they can 'expand their market' is to imprison more people.
As Dr Conlon explains, "because of the lobbying power that providers have, they can alter the relationships and decisions of local and state governments."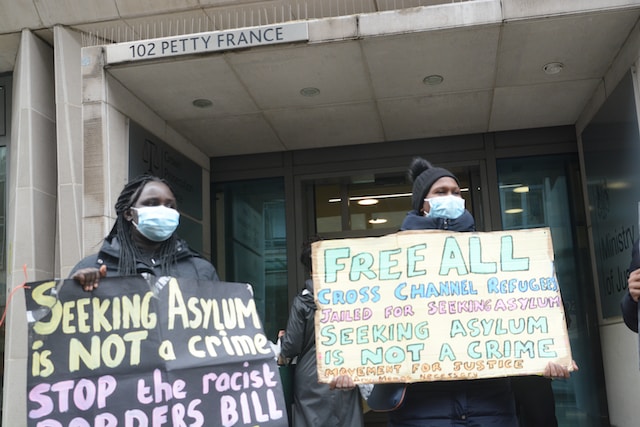 Collaborating for migrant justice
Dr Conlon recently spoke at the American Association of Geographers annual meeting, presenting her paper titled "Contortions of labor in immigration detention".
As well as sharing information in academic settings, Dr Conlon collaborates with non-profit organisations and charities to bring these issues to the public's awareness.
For example, Dr Conlon distributes the information she's received from Freedom of Information requests to the US-based National Immigrant Justice Centre, which enters the information into the public domain.
I want the research that I do to be useful to those who are at the forefront of bringing about change to the system: that means dismantling the system.
Dr Conlon and Dr Hiemstra are now working on a book, which will be aimed at both academics and the public, titled Sick Economies: Exploitation and Expansion in U.S. Immigration Detention, under contract with Pluto Press.
Header image
Flickr. People at a 2019 Pennsylvania protest against US immigration detention "DSC_6903" (CC BY-NC-SA 2.0) by joepiette2.