Climate change 'a mounting threat to our wellbeing'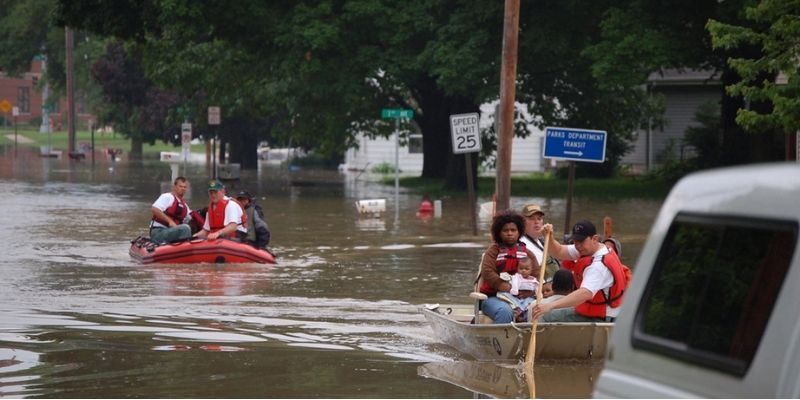 Despite efforts to reduce the risks, changes in the Earth's climate caused by human activity are affecting the lives of billions of people, according to a major international report published today.
For the past three years, Leeds researchers have worked with hundreds of experts from across the world to deliver the Intergovernmental Panel on Climate Change (IPCC) report, which assesses the impacts of climate change and how humanity and ecosystems are both vulnerable and adapting to it.
Increased heatwaves, droughts and floods are already causing widespread destruction to the natural world, as well as disrupting and endangering human communities. The report highlights that people and ecosystems least able to cope are being hardest hit.
Although some attempts to adapt to climate change have been observed across all regions of the world, authors of the report stress that much more progress is required to reduce the risks to both society and the environment.
This question of 'whether we are adapting to climate change' is not something that has been asked before in this level of detail.
Professor Lea Berrang Ford, Chair in Climate and Heath at Leeds' Priestley International Centre for Climate, was lead author of the chapter that assessed how well human society is adapting to climate change.
She said: "This question of 'whether we are adapting to climate change' is not something that has been asked before in this level of detail.
"This report not only gives us the means to answer this question but to vitally start preparing us for the most important follow-up question – 'what do we do next?'
"Thankfully we've seen an increased worldwide interest in the impacts of climate change and how we might be able to safeguard our future. Global events such as COP and the IPCC reports not only help bring focus to one of the biggest challenges of our time but help keep the conversation about climate change alive."
A resilient future
With global temperatures continuing to rise, adapting to climate change is crucial to minimise loss of life, biodiversity, and infrastructure.
However, this must happen alongside making rapid, deep cuts in greenhouse gas emissions to limit further warming.
Commenting on the report, Professor Piers Forster, Director of the Priestley International Centre for Climate, stressed the need for emissions cuts alongside more ambitious climate adaptation.
He said: "This report underlines the necessity of delivering a climate resilient net zero future. It shows that building defences to future warming only gets us so far.
"It also shows that limiting warming through greenhouse gas reduction only gets us so far. We need to both rapidly cut emissions and invest in defences to build a climate resilient society." 
The report demonstrates that climate-resilient global development is already challenging at current warming levels and may even become impossible in some regions as temperatures continue to increase over the coming decades.
Dr Houesung Lee, Chair of the IPCC, said: "This report is a dire warning about the consequences of inaction.
"It shows that climate change is a grave and mounting threat to our wellbeing and a healthy planet. Our actions today will shape how people adapt and nature responds to increasing climate risks."
Cutting edge science
The IPCC is the leading world body for assessing the science related to climate change, its impacts and potential future risks, and possible response options.
The report published today is the second of four reports that make up the IPCC Sixth Assessment Report (AR6). It is the first major assessment of climate impacts, vulnerability and adaptation since 2013.
Researchers from the University of Leeds also contributed significantly to the first instalment – Climate Change 2021: The Physical Science Basis – which was published in August 2021.
Professor Forster, who was a coordinating lead author for the first report, said: "The University of Leeds is at the forefront of research into the necessary responses to climate change.
"Priestley Centre experts continue to collaborate with colleagues across the globe to deliver the latest insights we need to protect the communities and environments most vulnerable to the impacts of climate change."
For many years, Leeds climate researchers have provided cutting edge expertise across regional, national and international scales. Recently, this contribution was recognised with the award of a Queens Anniversary Prize – the country's most prestigious higher education honour.
Future work
Leeds researchers are also involved in the third report, due be published in April 2022. Professor Jason Lowe, Priestley Chair in Interdisciplinary Climate Research, is a review editor for Working Group III, which examines climate change solutions. Professor Jan Minx, Visiting Researcher in the School of Earth and Environment, is a coordinating lead author.
A synthesis report will be published in September 2022, concluding the Sixth Assessment Report.
Further information
Top image credit: U.S. Geological Survey.
The report – Climate Change 2022: Impacts, Adaptation and Vulnerability – is available to read in full.
A two-part webinar, hosted by the Priestley Centre and the UK Climate Resilience Programme, will feature a number of IPCC authors, on Friday 4 March and Wednesday 9 March.
For media enquiries, contact the University of Leeds press office via email: pressoffice@leeds.ac.uk.