Citizen researchers tracking air pollution in our homes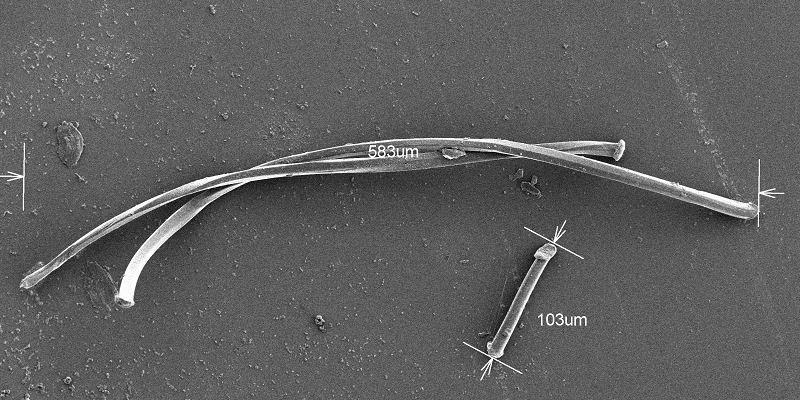 A group of citizen scientists is being recruited to help investigate the scale of microplastic air pollution inside people's homes.
During the first phase of the study, researchers from the University of Leeds will work with 40 families from Bradford, in West Yorkshire, to measure the level of microplastics caught in sampling devices placed inside their houses.
It is important to understand levels of pollution in our houses because it is where we tend to spend most of our time...
The families will be active participants in the study, involved in analysing the microplastic fragments to try and identify the sources of the pollution. A microplastic particle is smaller than five millimetres, where a millimetre is one-thousandth of a metre. As part of the propject, the citizen scientists will be trained in how to use microscopes.
First study into microplastics in the home
Previous research has revealed the build-up of microplastics in the oceans, food and drinking water. This is the first investigation into the extent of microplastic pollution in the home environment.
Dr Kirsty Pringle, Research Scientist at the Institute for Climate and Atmospheric Science at the University of Leeds, said: "Huge amounts of plastic are produced and disposed of every single day, and we now know that this has caused microplastic particles to build up throughout the natural environment.
"While researchers have found microplastics in very remote locations, even in the "clean" air on the Alps, very few people have looked at airborne plastics closer to home.
"In this project we will study microplastics in the air in people's houses. It is particularly important to understand levels of pollution in our houses because it is where we tend to spend most of our time, so any health effects are likely to be more significant."
There is some speculation that a lot of the microplastics might be coming from textiles, and that their distribution might be affected by ventilation and the age of the building.
'Microplastics pass into the lungs'
Dr Mark Taylor, Research Officer and Textile Technologist in the School of Design at the University of Leeds, who is also involved in the study, said: "We all have textiles in the home, but we don't really know which of these contribute most to airborne microplastics, and to what extent it is a problem. The research into the health effects of breathing microplastics is still very young. Many of the particles are small enough to pass by our bodies' natural defences and enter our lungs.
"If they can enter the lungs they may pose some risk to health. But we really need to understand more about what types of microplastics exist in the air in our homes before we can understand the health effects."
The research study, which is funded by UK Research and Innovation, is being led by scientists at the Air Quality Management Resource Centre at the University of the West of England (UWE), with citizen scientists in Bristol also taking part in the study.
Dr Ben Williams, from UWE Bristol, said: "This study has citizens at its heart, pushing the knowledge envelope and addressing an important policy gap of this emerging field."
The University of Leeds is part of the Microfibre Consortium, which aims to develop "...practical solutions for the textile industry to minimise fibre fragmentation and release to the environment from textile manufacturing and product life cycle".
Citizen science at the heart of research
UKRI has invested £1.5M across five separate research projects involving citizen science, looking at important issues such as mental health, migration as well as airborne microplastics.
Tom Saunders, Head of Public Engagement at UKRI, said: "In the last year, science, research and innovation have become something that people talk about every day, as we have seen how research directly affects our daily lives.
"These exciting new projects will see researchers and communities collaborate on a range of issues that affect our societies, from plastic pollution to mental health, supporting people from outside of the research and innovation system to bring their unique experiences and perspectives into the research process, helping them to develop new skills and knowledge which they can use in their own lives."
Further Information
Top image: A picture of a microplastic firbe taken from an electron microscope. The fibre is 580 micrometres long (half a millimetre) and is a polyester fibre. Microfibres are a subset of microplastics - and are far more likely to be airborne than larger plastic fragments. Picture: University of Leeds.