Rane Lucido
Course: Geography BA
Nationality: British
Rane is in her final year of studying Geography BA at Leeds, having spent her third year working in industry at Leeds-based firm First Direct. Although she wasn't able to attend an Open Day, Rane visited the university on her offer-holder day and just knew in her gut that Leeds was the place she wanted to study. Aside from going with her intuition, Rane knew that she wanted to study human geography specifically and liked the look of the modules on the Leeds Geography BA course. She relates that flexibility within the course was important to her, saying "I still had the option to do a discovery module or use my optional modules to do more physical modules if I wanted, so knew that it was the right place for me."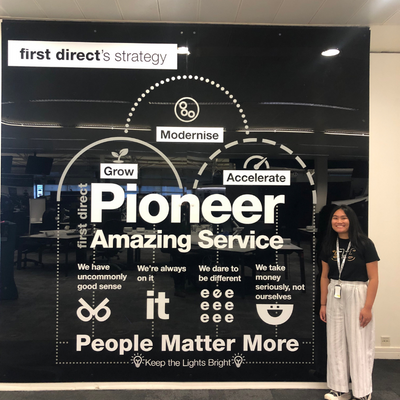 Rane's found that her passion for the subject has grown the more she studies. "I love how broad Geography can be - you can be in a lecture learning about climate change science in the morning and then be in a lecture in the afternoon all about economic systems in cities or be trying to understand how to use GIS (Geographical Information Systems) the next day. But the best part is learning how to link all of my different interests together to try to come up with solutions to problems people and the environment face."
The wide variety of modules on offer meant that Rane's picked up multiple transferable skills which especially came in handy during her placement year.
…the best part is learning how to link all of my different interests together to try to come up with solutions to problems people and the environment face.
Becoming more independent
One aspect of university that Rane was slightly apprehensive about was knowing she'd need to become more independent in her studies and in living away from home.
She says "My experience is quite unique, as struggling to cope with online university during COVID helped me realise that I had ADHD symptoms, and I got a diagnosis from a psychiatrist during my placement year.
"Overcoming this has not only helped me realise how strong I've been to manage it undiagnosed, get into Leeds and manage two years of university as well as placement applications, but also has helped me appreciate going into my final year more as I know that now I have the proper tools and help at my disposal (through the Disability Service and my GP), I can enjoy studying a subject that I am passionate about even more than I did before."
Year in industry
Rane completed a year in industry working as a Change Delivery Programme Analyst with First Direct which helped her to realise her transferable skills and build confidence.
"While Geography isn't exactly aligned with finance, I benefitted greatly from many transferable skills I had gained from the course such as data analysis, problem-solving, critical thinking, and studying a non-related degree allowed me to bring a new perspective to the team.
"I particularly enjoyed supporting the business change activity for new features for the First Direct banking app, called 'Spending Insights and Tags', brought in to help customers manage their financial wellbeing better by helping them track their spending, especially beneficial during the cost-of-living crisis.
"I gained so much valuable experience from this project alone. I presented to over 180 people, including the CEO(!), for a business awareness update, talking about the technical features.
...it gave me so much more self-confidence in terms of knowing that I could handle a graduate job in the future, as well as helping me realise my interest in finance.
"Most importantly, it gave me so much more self-confidence in terms of knowing that I could handle a graduate job in the future, as well as helping me realise my interest in finance."
Outside of study
Rane's been involved with extra-curricular activities since her first year, where she became as Social Science outreach Student Ambassador to work on widening participation events.
Then, in her final year, she's been appointed Events Coordinator for the LUUMIC (Leeds University Union Music Impact in the Community) committee, a volunteering society that runs music therapy or performance sessions in the local community, welcoming members regardless of musical ability.
"My role entails organising socials, fundraisers and projects. One of my main projects is running free ukulele sessions for our members, building on the experience I had teaching ukulele to my peers at secondary school and sixth form."
Future plans
Following her placement experience, Rane would like to work within the financial sector, while incorporating her academic interests in sustainable urban development. She aims to achieve this by working within sustainable/ESG (Environmental, Social and Governance) finance.
"Ideally, I would like to work within the field for a few years to gain first-hand experience, and then pursue postgraduate study within sustainable urban development and urban political economy. I'd like to understand how to better improve the role of finance and the economy within cities, and to understand how to make it more sustainable and equitable for people and the environment."
Parting words
"Studying Geography at Leeds has genuinely been the best decision I've ever made. Not only is the course itself great, but the opportunities that I have had alongside my course have made me a truly well-rounded and confident person that I feel very prepared for the post-University life.
Studying Geography at Leeds has genuinely been the best decision I've ever made.
"Get as stuck in as you possibly can and even if whatever you want to do seems scary at first, whether it be making new friends, trying a new sport or activity through a society, or going on year in industry or a year abroad, just go for it! Your time in Leeds will fly by before you know it and it's so important to make the most of it all.
"Sometimes things will be hard, you'll get stressed over essays and job applications, have to deal with dodgy landlords, go through personal ups and downs, etc., but you always get through it, no matter how difficult things get!
I've had a great time at Leeds, and I hope you will too."
Join us
To find out more about studying in the School of Geography, view our Undergraduate courses.