Success at Study UK Alumni Awards in Pakistan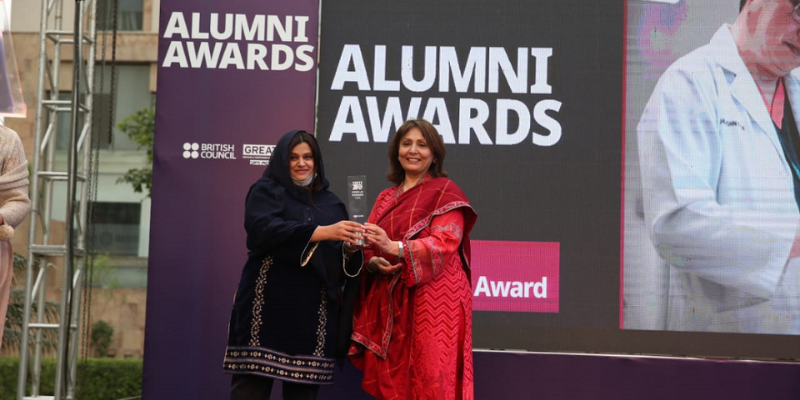 Congratulations Dr Hifza Rasheed on being awarded the Professional Achievement Award in the British Council Study UK Alumni Awards.
These awards recognise and celebrate the benefits that studying at a UK university has had upon the individual, their community and country and is a chance to celebrate outstanding alumni around the world.
Hifza completed her PhD, which focused on exposure to chemical forms of arsenic, at the School of Geography in 2018. Since her studies, Dr Rasheed has helped improve water quality for millions of people in Pakistan, through her research work, development projects and strong links to the UN Sustainable Development Goal 6: to ensure availability and sustainable management of water and sanitation for all.
Hifza has over 18 years experience as a water and wastewater expert, focusing on water and food safety, water supply, monitoring of water resources, wastewater profiling, exposure risk assessment and technology development.
Her work has also been instrumental in improving awareness and drawing the attention of Government to the issue of waterborne diseases, improving safe water access, capacity building of water supply agencies, climate resilient water safety plans, zero liquid discharge, chemical and biological risk modelling.
The ceremony was great, though at a small level compared to 2020 but it was very exciting to hear my name as winner. I felt overwhelmed as well as proud to be a Leeds Graduate.
Dr Rasheed will continue her work in promoting clean water and sanitation in Pakistan and encourage actions on water quality and quantity issues at all levels to facilitate the adoption of water smart approaches on an environmentally sustainable basis.
The British Council Study UK Alumni Awards ceremony was held on Saturday 6 March. We would like to congratulate Dr Hifza Rasheed on her achievement.
Further information
In 2019, UN updates outlined that despite progress, billions of people still lack safe water, sanitation and handwashing facilities. More efficient use and management of water are critical to addressing the growing demand for water. Hifza's work is a crucial part of this process in Pakistan.
Photo credit: Namra Mansoor
Related articles