Professor Ed Manley awarded 2022 Philip Leverhulme Prize for ambitious urban geography research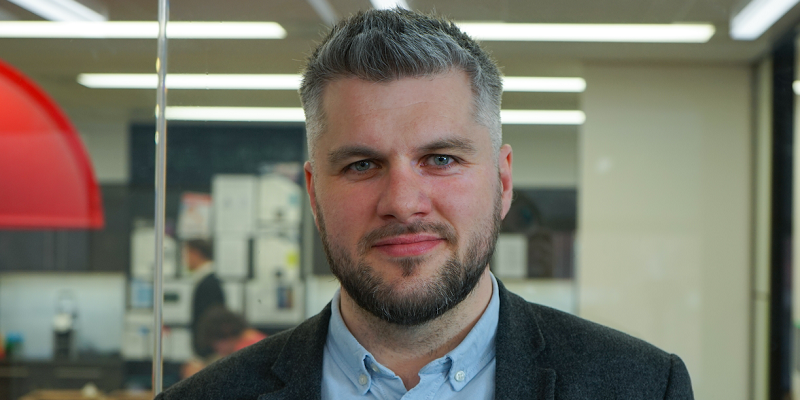 University of Leeds Professor Ed Manley has been awarded a £100,000 Philip Leverhulme Prize for research into how humans navigate urban spaces.
Professor Manley, Interim Head of the School of Geography, will use the funding for an ambitious project that seeks to help put humans at the core of policy analysis when it comes to urban planning.
Humans perceive space with a 'skewed, non-linear' alignment – while social policies and local services are planned with simplistic, straight-line distances in mind.
Professor Manley says this approach fails to recognise the true understanding people have of the world around them.
Geography must do better at putting humans at the core of their analysis.
The research project will produce models that replicate how people learn and navigate through urban space, better reflecting human perception.
The models will provide a new way of measuring distance proximity through a human lens, with the potential to improve spatial planning and policy analysis in areas such as accessibility and air pollution.
Professor Manley said the research will have 'international and far-reaching significance'.
He said: "I am delighted to be a recipient of the 2022 Leverhulme Prize, and truly grateful to the Trust for putting their faith in me and the risky research agenda I propose.
"I hope the research can be a catalyst for changing how we think about space and distance in quantitative social science.
"I look forward to continuing this research at Leeds - a world leader in spatial and urban data science - and I thank everyone in supporting me to reach this point."
2022 Philip Leverhulme Prizes
Philip Leverhulme Prizes are awarded to researchers whose work has had international impact and whose future research career is 'exceptionally promising'.
This year's 30 winners were chosen from more than 300 nominations, with five prizes on offer in archaeology, chemistry, economics, engineering, geography, and languages and literatures.
In its twenty-first year, this scheme continues to attract applications from an array of researchers of an incredibly high calibre, and the decisions get harder every year.
Professor Anna Vignoles, Director of the Leverhulme Trust said: "The Leverhulme Trust is delighted to award prizes to academics undertaking work on an impressively wide range of topics, from robotics to Romans, labour markets to Black British literature, and greenhouse gases to disability and wellbeing. We are very proud to support these researchers through the next stage of their careers."
Professor Manley, a member of the Centre for Spatial Analysis and Policy (CSAP) research cluster, is also a co-director of Societies at the Leeds Institute for Data Analytics and is a Turing Fellow at the Alan Turing Institute.
His research deepens understanding of human mobility behaviour in cities, using new forms of data and computational methods to capture how spatial behaviours shape urban activity and dynamics.