Husain Alogaily
Course: Sustainable Food Systems MSc
Nationality: British
Husain Alogaily is a Sustainable Food Systems MSc student, studying at the School of Earth and Environment.
Husain is incredibly passionate about food security, and fighting against hunger. After he finished his undergraduate degree, he knew he wanted to pursue a food-security related Masters in order to advance his knowledge and improve his skillset so that he could best incite positive change.
"After looking at a lot of different courses across the country, the Sustainable Food Systems MSc here stood out to me by far. I loved the structure of the course, and the key topics that were highlighted for teaching."
Mayor's Innovation Prize
One of the highlights of Husain's year at the University of Leeds was taking part in the Mayor's Innovation Prize, a competition that called for innovations across West Yorkshire that helped combat any of the many sustainability challenges faced by the region.
Entering with a few other students on my course, the competition was an intellectually stimulating, yet simultaneously super fun, method of turning the theoretical knowledge that I learned from my course into practical impact.
"3 months of hard work, late nights, and a lot of coffee turned into one of my proudest achievements when my team won the competition for our age category!"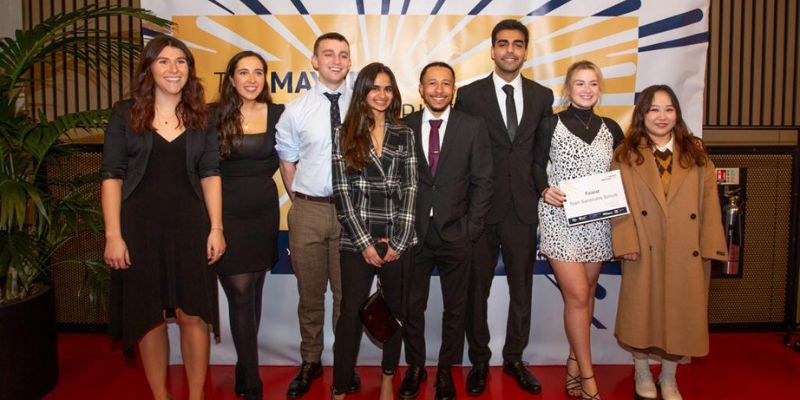 "Our project, a technological innovation that aims to facilitate increased household food-waste recycling, is now something I hope to continue on the side beyond my time at this university, and hopefully will blossom into something with strong widespread impact."
Studying Sustainable Food Systems at Leeds
"The best aspect of studying on this course has been the wide range of perspectives that we have encountered regarding global food systems. Our modules are being delivered by a variety of different lecturers, each with diverse backgrounds, experiences, and beliefs."
This holistic teaching has pushed Husain to think beyond the confinements of typical discourse.
"I have learned so much that I believe I can apply onto the real world to incite positive change, after I finish my degree."
Husain's fellow students on this course have been one of the most inspiring aspects of his time at Leeds.
"We are a pretty small course, with just 15 members, yet we have people from all over the world, with a wide range of ages and experience."
"The intimate and diverse nature of the class has led to such rich and thought-provoking discussions throughout the course. Being surrounded by fellow changemakers, who are as passionate about making a positive impact onto the world as I am, has been both encouraging and rewarding."
Creating change
"The current state of food security and nutrition in the world is beyond appalling. As a society we have invented cars that can drive themselves, rocket ships that can transverse the Earth's atmosphere; so much incredible innovation, and yet somehow simultaneously we see as many as 811 million people and potentially more facing hunger; lacking consistent and secure access to what should be a basic human right."
"This course provides us with the knowledge and skillset to go out into the world to help remedy this."
Husain's personal ambition involves working his way up a big international organisation like the FAO (Food and Agriculture Organisation), where he will have the strongest opportunities to improve the way that global food systems are being managed.
"I see this as a medium to achieve the practical change that I want to see in the world - significant, and hopefully one day complete, reductions in hunger and malnutrition rates."
Join us
Want to know more about student life at Leeds? Chat to one of our current students to find out what it's like to be part of our welcoming community.