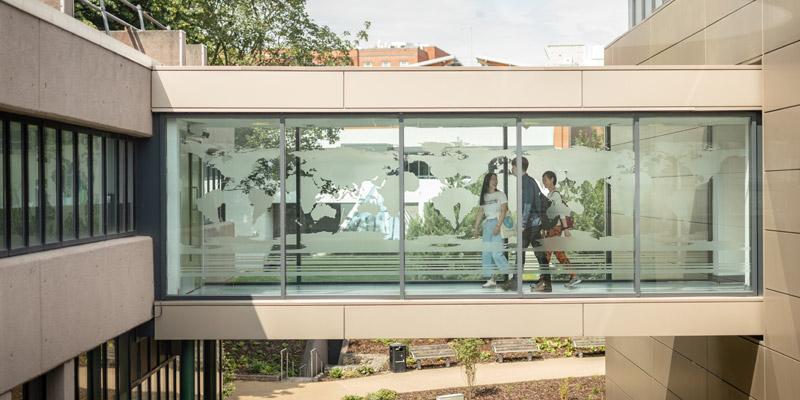 Our facilities in the School of Earth and Environment will enable you to build upon your expertise, giving you a solid understanding of how to use facilities in the sector. This means you can confidently take the next steps in industry or further study when you graduate.
We are continually investing in the best facilities for you, and you will find everything you need for your studies right here on campus.

Purpose-built teaching facilities
Earth visualisation Laboratory
Most undergraduate and postgraduate students will spend time in our Earth Visualisation Laboratory – a 96-capacity teaching laboratory that offers and immersive and collaborative learning atmosphere.
Dual-monitor computer clusters offer students a way to learn together, and our recently-overhauled AV system is capable of broadcasting a variety of feeds to every desk, including videomicroscopes (both polarising and binocular stereo type), a visualiser for examining specimens, and PC or laptop feeds for computer demonstration.
The lab is also home to 85 polarising microscopes for rock analysis, a number of binocular stereo zoom microscopes for micropalaeontology and ore genesis work and the extra-deep desks are suitable for laying out large geological maps for teaching 3D thinking skills. The EVL also holds the core teaching collections - specimens of >100 types of geological specimens with associated collections of thin sections, polished blocks, fossils, maps and other teaching materials.
Take a virtual 360 tour of our Earth Visualisation Laboratory.

Rock Mechanics, Engineering Geology and Geotechnical (RMEGG) Lab
Our Rock Mechanics, Engineering Geology and Geotechnical (RMEGG) Lab is used by MSc Engineering Geology students for a wide range of rock and soil testing activities. Students will have access to collect, process, test and interpret data related to the geotechnical, mining and petroleum sectors around the world.
MSc Specialist Laboratory
The MSc Specialist Laboratory is used by MSc Exploration Geophysics students for workstation-based teaching and later for individual projects. The dual-screen computers are all kitted out with idustry-standard geophysical processing and interpretation software packages, such as MESA, SeisSpace/ProMAX®, KINGDOM, Petrel™, Geosoft, RokDoc, OpendTect™ and Reveal™.
Geophysical field equipment
The School operates a range of geophysical field survey systems, including gravity, resistivity, radar, seismic and electro/magnetic instrumentation. Students use these systems throughout their BSc, MGeophys and MSc geophysics programmes to explore and understand subsurface structure. They receive training during taught-course programmes, and may elect to undertake a field-based dissertation project using this equipment.
Environmental field equipment
The School has access to professional-grade weather stations, built from component parts by our students. These have been installed both in and around Leeds and at field course sites to provide and record live weather data.
Throughout your course, you may also use:
Windsondes – retrievable research-grade weather balloons with GPS trackers launched by students to measure atmospheric conditions.
A LICOR plant canopy analyser – to measure leaf area index.
Radiometers – to measure upwelling/downwelling solar radiation (shortwave and longwave).
Temperature and relative humidity sensors – installed in woodlands to remotely monitor the relationship between climate, meteorology and ecology.
Various hand-held meteorological equipment – to measure current temperature, relative humidity, infrared, pressure, wind speed and direction.
World-leading research
At the School of Earth and Environment, you'll be engaging with an international community of scientists and social scientists.
Our facilities host national centres in Atmospheric Sciences, Climate Change Economics and Policy, Industrial Energy, Materials and Products, and Polar Observation and Modelling, and co-hosts the National Centre for the Observation and Modelling of Earthquakes, Volcanoes and Tectonics. You may also be taught by these centres and have the chance to participate in seminars and projects, utilising the specific kit provided by the centre.
Lecture theatres that optimise your learning
You'll learn through a combination of taught and practical sessions, with access to the following facilities:
Large and modern lecture theatres, with wheelchair access
Multiple seminar rooms for teaching smaller classes and undertaking group meetings
Latest audio-visual technology and presentation equipment
Lecture capture recording allows you to view presentations after they have happened.
There are several seminar rooms situated in the School that can be adjusted and rearranged dependent on class size and requirements to offer a less formal environment for group work and meetings.
Some classes may also be taught in central teaching spaces of the University, such as the Roger Stevens building.

Study facilities that support your work
From 24-hour computer clusters, libraries and silent study areas when you need to finish an assignment without interruptions to interactive spaces, cafes and group rooms for collaborative project work — there's always somewhere to go on campus to suit your study preference.
Our dedicated 50-seat computer cluster with dual-boot Microsoft and Linux operating systems is used for undergraduate practical labs and can also be used for project work. You'll access our breakout space, which you can use for personal study or group projects.
Being so centrally located on campus, you are also close by the Students' Union building and its many cafés which offer a relaxing space for studying or catching up with friends. All areas around campus have WiFi access.