Cheltenham Science Festival: A Driverless Future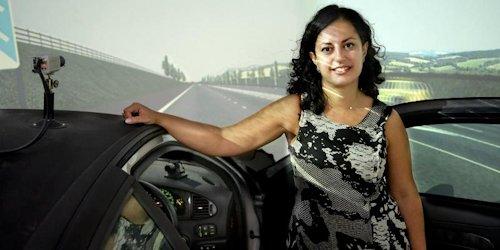 Driverless cars are likely to be on our roads in the very near future, promising to transform our experience of day-to-day travel.
The technology being developed aims to making driving safer, with fewer driver related accidents, greener, with less pollution through co2 emissions, and easier for drivers, allowing them to engage in other activities.
With this in mind, Professor Natasha Merat, from the Institute for Transport Studies at the University of Leeds will appear on a panel alongside Rory Cellan-Jones, BBC Technology Correspondent; Emma Wright, Kemp Little LLP and Paul Newman, University of Oxford at the Cheltenham Science Festival.
Professor Merat and the panel of leading experts in robotics, transport and technology with be discussing and exploring the cutting-edge driverless technology being developed and its potential benefits and challenges.
They will also be considering some of the questions and concerns that might arise as people adapt to an automated driving experience, for example: How can we ensure the technology is used appropriately and safely? And what are the safety concerns that developers and policy-makers have to be aware of?
With her major research outputs in the human factors and implications of automated driving, Professor Merat will be discussing her research conducted into driver and road user behaviour, and how this is likely to impact upon drivers adapting to automated vehicles.
Professor Merat says: "in line with previous work on automation in other domains, our research shows that drivers are not very good at simply monitoring an automated system, and any absence of physical control of the vehicle and monitoring of the driving environment is likely to lead to a dangerous outcome, in case of system failure.
"Ensuring that the benefits of driverless cars are realised, while keeping drivers aware of system capabilities and limitations, is indeed a challenging research area."
Further information
The event 'A Driverless Future' takes place on Friday 8 June, 11:45 - 12:45 at the Cheltenham Science Festival. For tickets and more information visit their website.