Human Factors & Safety group hosts L3 Pilot project workshop
On 16 and 17 January 2018, members of the Human Factors and Safety group at the Institute for Transport Studies hosted the first joint sub-project workshop for the EU-funded L3Pilot project.
The event was attended by 60 experts from industry and academia from partners across Europe.
The L3Pilot project focuses on the large-scale piloting of SAE Level 3 automated driving functions, with additional assessment of some Level 4 functions. The functionality of the systems used will be exposed to variable conditions with 1,000 test drivers and 100 vehicles in 11 European countries.

The tested functions cover a wide range from parking to overtaking, and urban intersection driving. With its extensive coverage of driving situations, L3Pilot is the first worldwide project to demonstrate and test a comprehensive setup of automated driving functions.
After a welcome and introduction by Aria Etemad, L3Pilot project co-ordinator (VW), and Professor Natasha Merat, ITS Leeds PI, participants presented updates from the various sub-projects, followed by the collaborative workshop.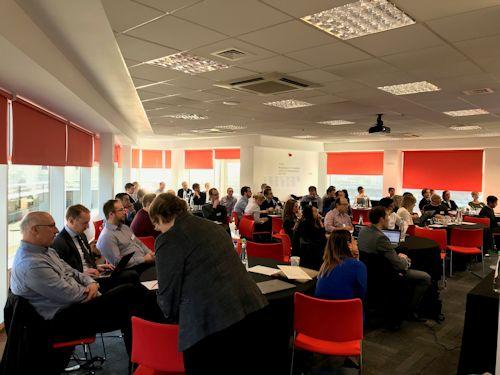 Participants assessed the feasibility and priority of a wide range of research questions, including technical aspects, user acceptance, driving and travel behaviour, and impact on traffic and society, that will be addressed within the project.
On the one hand, this required understanding what the research questions were and how they were collected, and on the other hand, understanding what data can be collected from the pilots. The workshop discussions generated new research questions and provided clarity on those already collected.
Further Information
For more information on the L3Pilot project, visit the project website.
Find out more about the Human Factors and Safety group.