Turing Fellowships awarded to ITS academics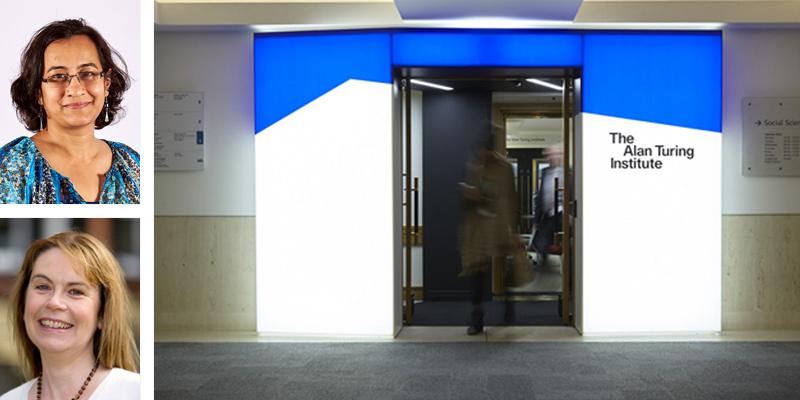 Two ITS researchers have been awarded a prestigious fellowship with The Alan Turing Institute.
Dr Charisma Choudhury and Professor Susan Grant-Muller will begin the two year fellowships this autumn, and will be supported in developing projects alongside, and in collaboration with, other Turing Fellows.
The Fellowships, which are awarded to those with proven research excellence in data science, artificial intelligence or a related field, come after last year's announcement of a partnership between the University and the UK's national institute for data science and artificial intelligence.
Dr Choudhury and Professor Grant-Muller will join the Turing's existing community of researchers, alongside 22 other Fellows from the University of Leeds, who represent multiple faculties and research areas.
"The Turing commitment to scientific excellence is truly inspiring and I'm very excited to be joining the ATI community" said Professor Susan Grant-Muller, who received the Fellowship due to her work on influencing technologies and the use of new and emerging data forms (particularly micro-level location data) to understand transport-health-carbon interactions.
"The juxtaposition of advanced data analytics and real world partnerships is exactly the powerful mix that is needed to advance the grand challenges facing society" she added.
"I am excited to use this Fellowship to build better bridges between Machine Learning and Choice Modelling disciplines. I attended the orientation event last week and experienced first-hand how extremely stimulating the ATI environment is. It was really great to have initial exchange of ideas with some excellent and very enthusiastic researchers from other disciplines and I am looking forward to doing some challenging research building on this" said Dr Charisma Choudhury.
Dr Choudhury's Fellowship builds upon her ongoing work on developing choice models, using emerging data sources like mobility tracts from phones and ticketing data as well as stress levels measured using wearables, for example.
As part of the University's collaboration with The Alan Turing Institute, Leeds Institute for Data Analytics (LIDA) will be heavily involved in the coordination of projects and activity amongst Turing Fellows and their research teams.
"Being a university partner of The Alan Turing Institute provides opportunities for the University's researchers to work closely with the Institute's academic, industry and policy partners and undertake the most ambitious, impactful research possible." Said Professor Lisa Roberts, Deputy Vice-Chancellor: Research and Innovation.
"I am confident The Alan Turing Institute will benefit from LIDA's interdisciplinary approach and the fantastic engagement we have achieved with national partners across the retail, energy and healthcare sectors" added Professor Roberts.
Further reading
Researchers secure Fellowships with The Alan Turing Institute