ITS alumni networking event in London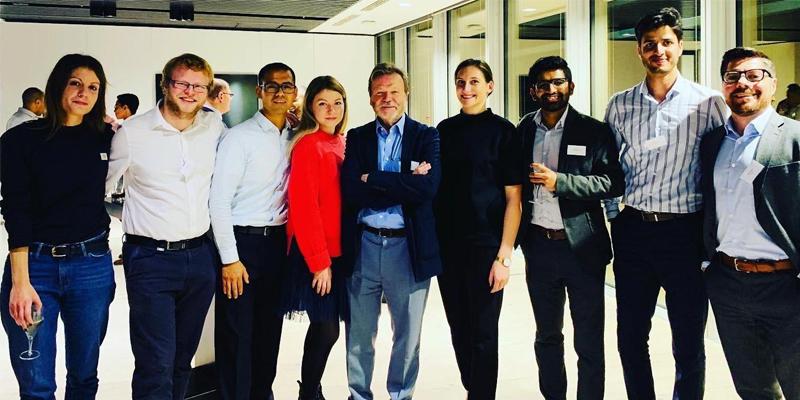 For the first time since 2012 we enjoyed a fantastic opportunity for alumni to catch up in London with old friends, classmates, ITS staff and colleagues together.
Our previous networking events have been attended by a diverse range of industry professionals from both the public and private sectors and this year we were kindly hosted by AECOM at their offices in Aldgate Tower. We were delighted to catch up with over 40 alumni who joined us since their graduations between 1980-2019.
We welcomed a key note speech from our high profile guest speaker, Luis Pilo Willumsen. Luis (centre of photo) has over 35 years of experience as a consultant, transport planner and researcher with a distinguished academic career. He is an internationally recognised authority in Transport and Traffic Modelling. Based in Britain since 1975, he was a researcher and lecturer at Leeds University, where he graduated from ITS with a PhD in Transport Demand Modelling and Forecasting in 1980. Luis became a Director of Steer Davies Gleave with a special responsibility for technical development; he left that company to set up his independent practice in December 2009. Luis has delivered projects in some 30 countries and in 2017 won the Master of Modelling Lifetime Achievement Award.
Recent alumnus Mario Rivas (far right of photo), MSc Transport Planning and the Environment 2018 said, "I had a wonderful chance of attending the ITS alumni event in London. It was interesting to hear from the director, the new ITS targets, studies, innovations, and developments in order to continue being one of the best transport institutes around the world. Luis (Pilo) Willumsen inspired us by his extraordinary career and contribution to the private and public sector for building a more sustainable public transport and spreading his knowledge through lectures and books"