'Decade of action' to restore world's forests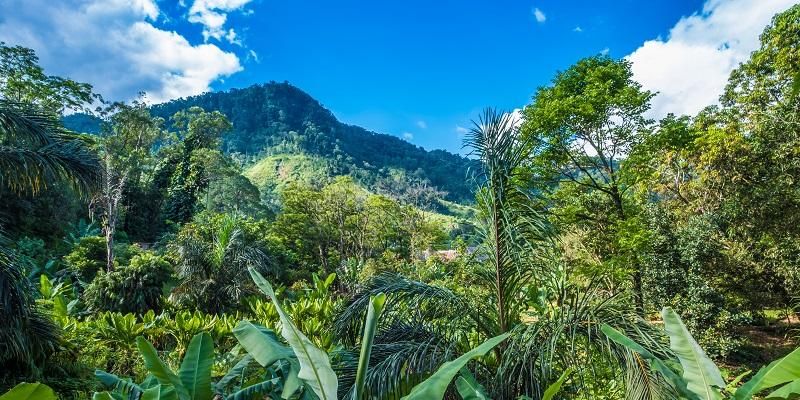 Leading researchers, including University of Leeds academics, want to see a decade of "global action" to restore the world's lost and depleted forests.
They argue that with the right policies, forest restoration can benefit both nature and the people who live and work in the forests.
A landmark edition of the academic journal, Philosophical Transactions of the Royal Society: Biological Sciences, has published 20 articles by 192 academics from around the world revealing the benefits of forest restoration.
Professor Andy Marshall, from the University of the Sunshine Coast in Australia who led the international collaboration, said the researchers were committed to bringing about change based on the results of scientific study.
He added: "Our goals are ambitious and intend to deliver long-term success by learning from the past, from choosing the right location and restoration method through to mitigating socioeconomic pressures, weather extremes and people-wildlife interactions.
"Almost 200 authors from 27 countries and the United Nations' taskforce are working to ensure these findings really make a difference to forest restoration and inspire action around the world, particularly in the developing tropics where much of this research has been undertaken."
Restoring global forests is part of the UN's Decade on Ecosystem Restoration which runs until 2030. The UN says land degradation from pollution, overuse and conversion to other uses affects 3.2 million people. The loss of habitats has pushed one million species close to extinction.
The researchers say the Decade on Ecosystem Reconstruction is a critical opportunity to restore lost and damaged habitats.
They identify 15 key priority areas where science needs to be targeted, including greater efforts to involve local people in restoration projects; to manage natural regrowth of forests rather than rely on introduced species; and better communication of scientific evidence to policymakers.
Leeds academics were senior authors on the following papers in the journal:
Forest resilience
Southeast Asia is home to 15% of the world's tropical forests, some of which have been intensively logged and replaced with single-species plantations of rubber or Acacia trees. The region is also prone to extreme weather events such as cyclones.
Professor Dominick Spracklen, from the School of Earth and Environment at Leeds, led a research team that has investigated whether the plantations recovered from extreme weather in the same way as natural forests.
The recovery question is critical because trees are important stores of carbon, playing a role in taking carbon dioxide out of the atmosphere. That process goes into reverse if they are damaged by a storm and decay.
The researchers mapped forest recovery following Typhoon Doksuri, a severe storm which struck central Vietnam in September 2017. By analysing before and after satellite images, they found that plantations - made up of a single species - were more likely to suffer storm damage than natural forests, which were able to withstand the extreme weather.
We found natural forests in Vietnam are remarkably resilient to damage from tropical cyclones and remained a small carbon store despite being impacted by a major storm.<br><br>Our work highlights the urgent need to allow logged natural forests to recover through reducing further conversion of logged natural forests to plantations and the reduction of illegal logging in degraded natural forests.
The paper - Implications of tropical cyclones on damage and potential recovery and restoration of logged forests in Vietnam - is available online.
Balancing rural livelihoods with conservation
Community certified forests (CCFs) aim to ease the tension that can exist between the communities that live and make an income in forest areas and the need for forest restoration and conservation.
Run by forest communities, CCFs must demonstrate good governance as well as adherence to an agreed set of rules about the way the forest is managed.
Researchers used interviews with almost 1000 villagers and novel data capture methods to get a picture of the factors that help define a successful CCF.
They found that equitable governance, where everyone gets a fair share of resources, is a more important driver of successful conservation than financial incentives. One community member told the researchers: "One of our expectations was to make sure the community forest benefits all villagers."
Equitable governance also saw money being spent on shared community development such as education, healthcare, solar lights and water irrigation.
But there were trade-offs with some of the other factors, such as the need for local people to cultivate the land and raise livestock with the conservation and restoration aims of the forest.
Dr Susannah Sallu, Associate Professor in the Sustainability Research Institute at Leeds, said: "It was possible to disaggregate the impacts of a conservation-restoration intervention into multiple pathways and identify which aspects are performing well and which aspects are failing.
"Developing an understanding of the pathways linking social and conservation outcomes can help identify opportunities to promote synergies and mitigate negative impacts to reconcile competing objectives.
"There are however no simple solutions to meet multiple environmental and social objectives."
The paper - Pathways to win-wins or trade-offs? How certified community forests impact forest restoration and human wellbeing - is available online.
Dr Sallu was also involved in another paper published in the journal - A systems approach framework for evaluating tree restoration interventions for wellbeing and ecological outcomes in rural tropical landscapes - which explored ways to predict the impact of tree planting on farmers who cultivate land in forest areas in Tanzania, to identify tree planting practices that would have better outcomes for local people.
Restoration science
In the preface to the journal, Professor Simon Lewis, from the School of Geography, argues that restoration science is central to the challenges of climate change, biodiversity loss and rural development. He writes: "The potential of restoration science is to provide society with the knowledge and tools to make better choices about which habitats to restore and where.
"Producing as robust science as possible will help this potential be realised."
Further details
For more information, please contact David Lewis in the press officer at the University of Leeds: pressoffice@leeds.ac.uk