Alumni Talk - Active Travel: the Future of Movement and Modal Shift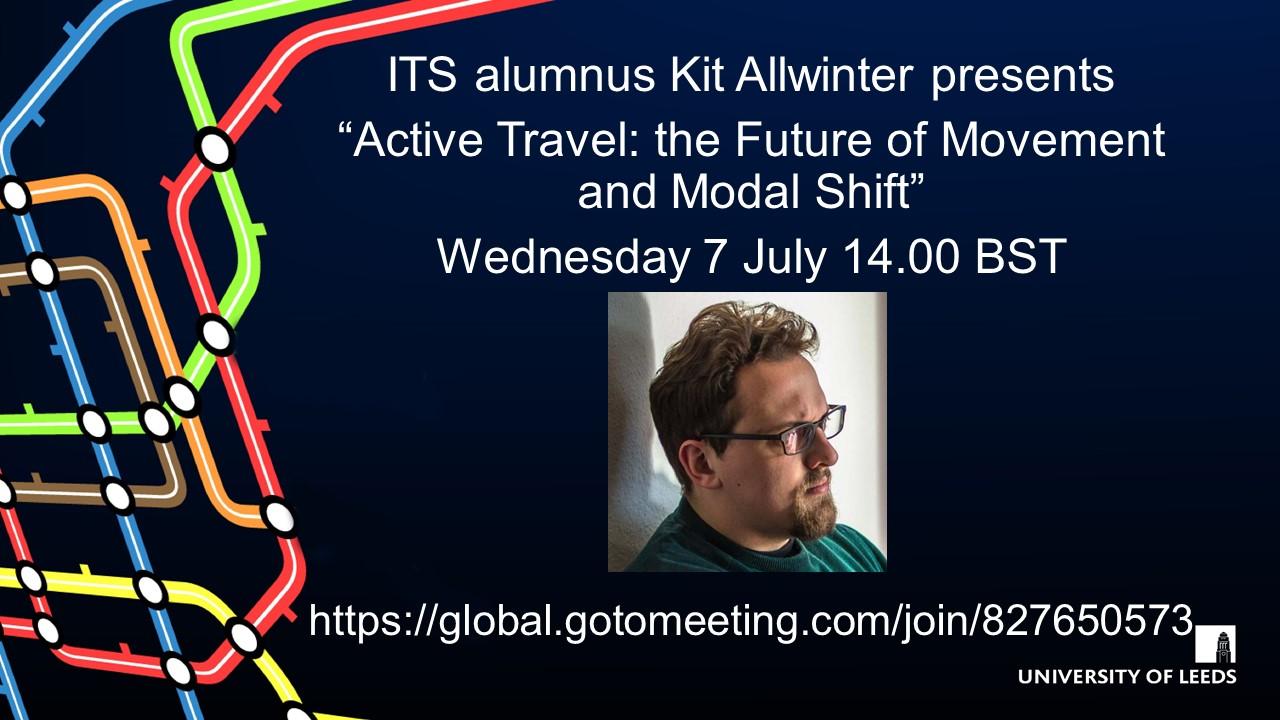 Date: Wednesday 7 July 2021, 14:00 – 15:00
Location: Online
Cost: Free
Join us for our latest free webinar presented by ITS Leeds alumnus Kit Allwinter, Active Travel Policy Officer at the West Yorkshire Combined Authority (WYCA).
Access: To join the webinar on the day, click the following link https://global.gotomeeting.com/join/827650573
Abstract: One of the joys of studying transport planning is how it sits at the heart of modern society: the way we live, work, shop, relax and look after our children. Yet the last 60 years of transport planning has not been looking at the range and externalities of mobility, and this has had a range of negative impacts with which we're only just beginning to grapple. Active travel offers a lens through which to re-assess how transport impacts our quality of life, but if it is to be more than preaching to the converted, we'll need large-scale modal shift – and that will mean changing popular perceptions.
Biog: Kit Allwinter graduated from ITS in 2013 with MSc Transport Planning. He brings a wealth of industry experience having worked for Transport for Greater Manchester as an Intelligent Mobility Officer, AECOM where he was a Senior Consultant and currently at WYCA as an Active Travel Policy Officer. He is passionate about urban design, sustainability, innovation, public transportation and distribution processes; in particular how these factors all interact to create cities and communities. Read more on his ITS career profile.
There will be a Q&A session at the end of the presentation and everyone is encouraged to participate.
Please ensure your camera and microphone are switched OFF during the presentation to help preserve bandwidth and minimise any disruptions.
If you have any queries please email J.Cleaver@leeds.ac.uk
We look forward to seeing you.