ITS Alumni Talk: Working in the rail industry in Chile and the UK. Parallels and differences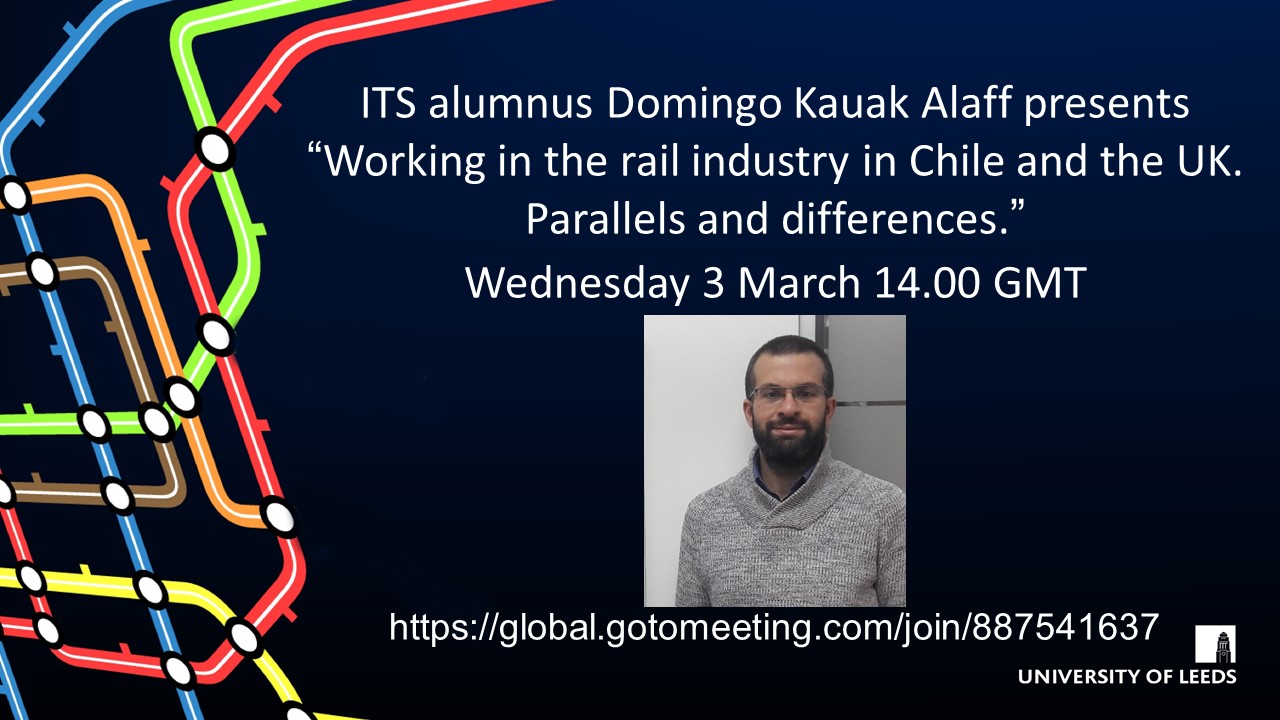 Date: Wednesday 3 March 2021, 14:00 – 15:00
Location: Online
Cost: Free
Presented by ITS Alumnus Domingo Kauak Alaff, MSc Railway Operations, Management and Policy 2020.
To join the webinar on the day, click the following link: https://global.gotomeeting.com/join/887541637
Domingo Kauak Alaff discusses the rail industry in Chile and the UK. Two different countries that have different railways.
The seminar explains the different roles of the railway system, funding, appraisal, territorial coverage, competition and conditions for both countries, accounting on how that impacts on their present and shapes their future through projects and policy. Also, the role of education for the rail industry will be discussed and how that could be applied on an international perspective (especially for international students willing to work on rail or transport policy in general).
There will be a Q&A session at the end of the presentation and everyone is encouraged to participate.
Biog: Domingo graduated from ITS last year with an MSc Railway Operations, Management and Policy and has been working for the last 9 years at the Chilean State Railways who are the state-owned rail infrastructure manager and heavy-rail operator, mostly for passenger trains. His current position is as a Project Leader, where he is in charge of proposing and high-level appraisal for projects in their very early stages, looking for short, medium, and long term initiatives.
Please ensure your camera and microphone are switched OFF during the presentation to help preserve bandwidth and minimise any disruptions.