Alumni Talk: Electrification Strategy and Action Plan for public transport and intermediate public transport in Indian cities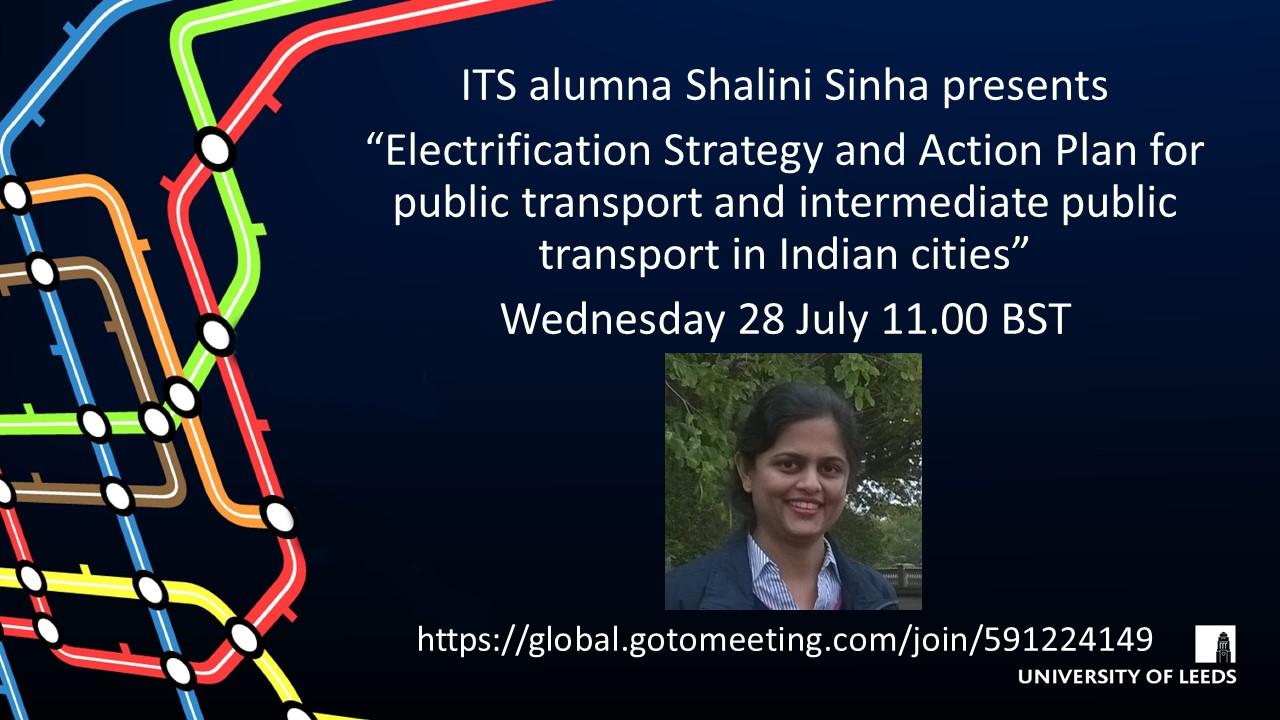 Date: Wednesday 28 July 2021, 11:00 – 12:00
Location: Online
Cost: Free
Join us for our latest free webinar presented by ITS Leeds alumna Shalini Sinha, Associate Professor at Centre for Environmental Planning and Technology, CEPT University, Ahmedabad, India
Access: To join the webinar on the day, click the following link https://global.gotomeeting.com/join/591224149
Abstract: This presentation will focus on the project 'Electrification Strategy and Action Plan for public transport and intermediate public transport in Indian cities'. In continuation with the significant policy and funding push by the national government of India towards electrification of transport, this project aims to support cities in developing a longer-term strategy for sustained action towards electric mobility. The project looks at Ahmedabad and Mehsana, respectively representative of a major/big city and a typical small city of India, where the focus towards transitioning to electric fleet can be used as an opportunity to upgrade existing bus/IPT services. The project is being carried out jointly by CEPT Research and Development Foundation, Gujarat Energy and Research Management Institute, ITS – University of Leeds and Brunel University, London.
UK Partnering for Accelerated Climate Transitions (UK PACT) is a programme funded by the UK Government. UK PACT supports countries that strive to overcome barriers to clean growth and have high emissions reduction potential to accelerate their climate change mitigation efforts.
Biog: Shalini Sinha graduated from ITS in 2004 with MSc (Eng) Transport Planning and Engineering. She has been in academia for almost 10 years. Shalini currently works at CEPT University's Centre of Excellence in Urban Transport as the Deputy Director and Chair of the Masters' Program in Transport in the Faculty of Planning. As well as teaching, she involved in research, project consultation and developing & delivering several capacity building programs for in-service transport professionals in India. Read more on her ITS career profile.
There will be a Q&A session at the end of the presentation and everyone is encouraged to participate.
Please ensure your camera and microphone are switched OFF during the presentation to help preserve bandwidth and minimise any disruptions.
If you have any queries please email J.Cleaver@leeds.ac.uk
We look forward to seeing you.