Plans unveiled to trial self-driving PODS in Leeds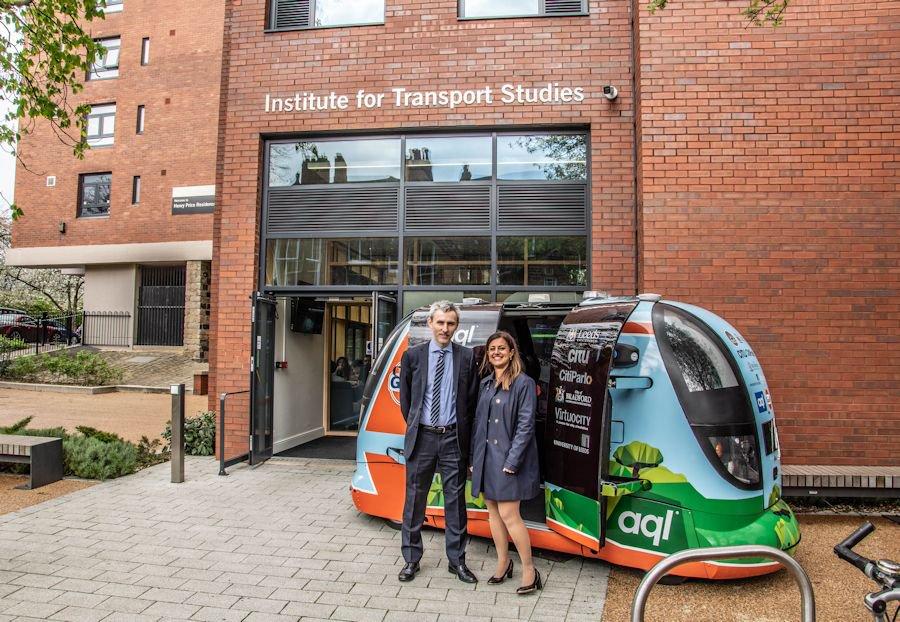 As part of Leeds Digital Festival, the POD came to the Institute for Transport Studies (ITS) on 26 April, offering visitors an opportunity to explore the next generation of transport technology.
The POD will continue to be on display at ITS until Friday 4 May.
The POD, created by British manufacturer, Westfield Technology, aims to offer sustainable transport for travellers in urban areas. These vehicles are already in use at Heathrow Airport, and there are plans to trial them in Leeds city centre later this year.
This project is being led by Telecoms operator aql, Gulf Oil and a consortium of partners, including the Institute for Transport Studies, University of Leeds; CitiPark; NorthInvest; CiTu and Westfield Technology.
The aim is to deploy PODs in a controlled environment on Leeds' South Bank and aql will conduct real-world testing of newly-developed software systems.
Researchers at ITS are at the forefront of research into driverless technology. Professor Natasha Merat, leader of the Human Factors and Safety research group, is investigating the challenges faced by drivers of vehicles when resuming control from automation.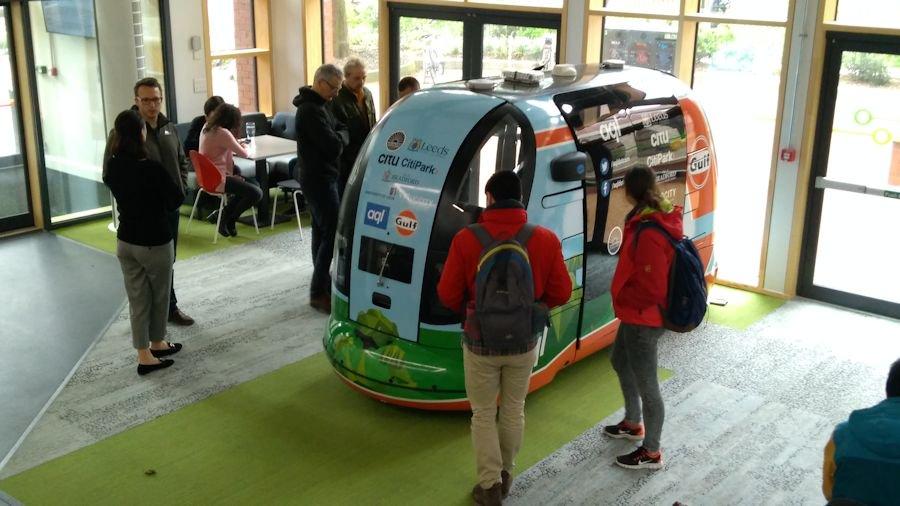 Students and staff at the Institute for Transport Studies get an up-close look at the driverless POD.
Professor Merat's research also considers what information the drivers of other vehicles, and pedestrians or cyclists, require when interacting with automated vehicles.
Current projects include 'HumanDrive', led by Nissan's European Technical Centre, for which Professor Merat is the principal investigator. The project aims to develop driverless vehicle technologies that can deal with varied UK driving scenarios and will culminate in the most complex journey yet attempted across the UK without driver input.
Leeds is a leader in this field of research. The Driving Simulator – one of the most advanced driving simulators in a research environment – is a great tool for understanding how people behave whilst in a self-driving car on a 'real' motorway.
Related articles
University of Leeds – research into self-driving cars accelerates at the University of Leeds
Bdaily News - Plans unveiled to trial 'super-connected' self-driving PODs in Leeds city centre
BBC - Forget Supertram: Leeds could soon get driverless taxis
Further information
For more information on aql, visit their website.