Power the smart electric buses of the future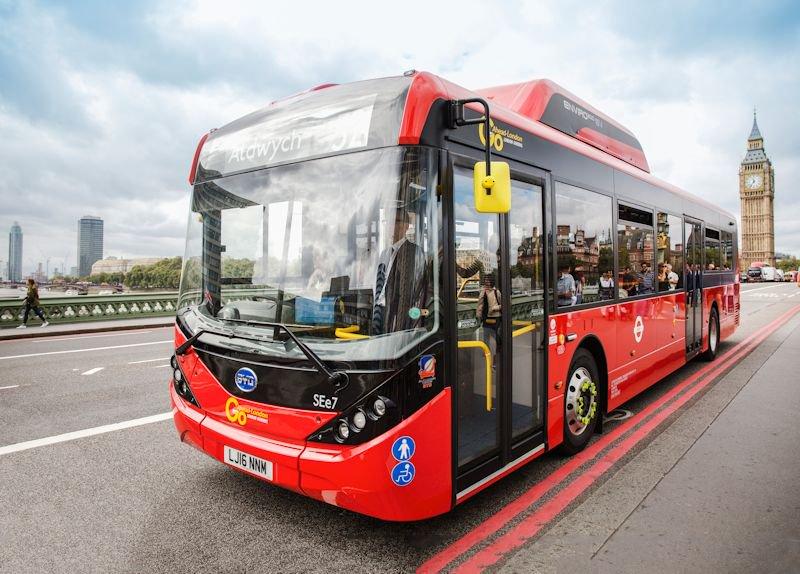 The University of Leeds is part of a new project researching how electric buses can help support the power network by using two directional charging.
The 'Bus2Grid' project will involve over 30 e-buses using smart technology to provide two-way charging which enables the e-bus batteries to interact with the energy system on UK Power Networks' London network.
As a consortium member, the University of Leeds will be leading on business model design and barriers to market analysis. This will be overseen by Dr Stephen Hall from the School of Earth and Environment along with Professor Simon Shepherd from the Institute for Transport Studies.
Dr Hall said: "This project sees utilities working with the transport system to find out how bus fleet electrification can support the decarbonisation of the electricity grid. Using heavy vehicles like busses means we have lots of power in one place, so we can offer more certainty that the vehicle to grid service will be there when needed.
"Working alongside the technology development in this trial, the University of Leeds will explore how the business model for vehicle to grid services develops and what changes we can make to energy and transport systems to maximise the benefits of this service."
Bus2Grid is part of the Vehicle-to-Grid (V2G) competition, funded by the Office for Low Emission Vehicles (OLEV) and the department for Business Energy and Industrial Strategy (BEIS), in partnership with Innovate UK.
In January 2018, OLEV and BEIS announced that 21 projects were to receive funding to develop the business proposition and core technology around V2G, and demonstrate those with large scale trials.
The V2G projects represent a significant step towards the transition to a low carbon transportation and a smart energy system. Allowing emissions vehicles to return energy to the Power Grid when parked and plugged for charging, will increase Grid resilience, allow for better exploitation of renewable sources and lower the cost of ownership for emissions vehicles owners, leading to new business opportunities and clear advantages for emissions vehicles users and energy consumers.
Transport Minister, Jesse Norman said: "As the number of electric vehicles grows and their battery capabilities increase, there is a great opportunity to capitalise on vehicles' stored electricity and use it to power homes and businesses.
"This project is at the cutting edge of its field, and it could revolutionise the ways we store and manage electricity, both now and in the future."
The Bus2Grid consortium is led by SSE Enterprise and includes BYD and UK Power Networks as partners.
Sara de la Serna, Development Manager for SSE Enterprise, said: "This funding award will help us pilot a scheme to use smart technology to make two-way charging something that can be rolled out widely. The UK Government has rightly set ambitious targets for the roll out of electric vehicles, including buses, and our challenge is to pioneer appropriate ways of charging them with smart technology."
Frank Thorpe, UK Country Manager for BYD, said: "As the leading innovator in the electrification of Britain's bus fleets BYD is delighted to be at the forefront of this move towards V2G technology. It has the potential to transform both the operation and economics of future electric bus developments."
Ian Cameron, Head of Innovation at UK Power Networks said: "We believe buses have a big part to play in rolling out low emission vehicles. They offer huge opportunities to contribute towards the drive to improve London's air quality.
"A fleet of bus batteries harnesses large amounts of energy when charged and they have are habitual, with regular and predictable routes, driving patterns and timings. That means we would be able to predict and plan for how we could use any spare available capacity they can offer to support the grid. For example, they could be used as energy storage devices that could add capacity and help us to increase the volume of renewable energy exported onto the network electricity demand is at peak."
Further information
For further information, visit sse.com