Research showcased to Secretary of State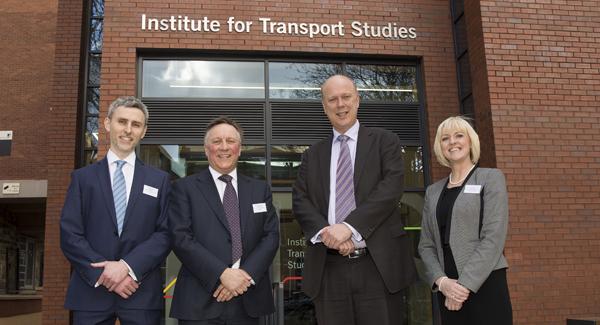 The Secretary of State for Transport visited the Institute to hear about our cutting-edge research, which is helping the sector become more accessible, efficient and productive.
In a two hour visit Chris Grayling opened the new £4m ITS building, which provides a new modern research and teaching space. Enhanced spaces have been created for PhD and post-doctoral researchers, to ensure that the University is supporting emerging talent alongside its world-class professors.
I'm confident that Leeds University students will play
a huge part in shaping a modern transport system for the future
The investment is part of the University's wider £520m development plan, to create a world-class campus for research and teaching. The new building also marks 50 years since the discipline of transport studies was first established at Leeds.
During his visit to the University, Mr Grayling met with leading researchers and was told about how among other successes ITS research has informed efficiency targets for Network Rail and the safety ratings of cars used by Euro NCAP.
Professor Richard Batley, Director of ITS said:

"The latest generation of ITS professors cover topics reflective of the highly complex nature of our modern transport system, and we consistently strive to create new knowledge which benefits the public and private sectors.
"It was important to be able to explain our work to the Secretary of State, and to show how it can have a real impact on society."
Mr Grayling was able to see first-hand how ITS research is addressing society's transport needs in the face of rapid changes in environment, economics and demographics.
ITS researchers had the opportunity to showcase ongoing research projects such as DISRUPTION; a project aiming to reduce the energy use and associated greenhouse gas emissions from the transport sector by looking at people's mobility, including their travel and use of computers and mobile phones.
Other projects included research into safer cycling, climate change, energy security, technology and human factors in transport. Mr Grayling also watched a demonstration of a pedestrian simulator, which allows researchers to gather real time data on people interacting with their environment while walking.
Mr Grayling said: "We want to encourage young people to take up the many exciting and cutting-edge careers in transport, and I'm very grateful to have the chance to open the Institute for Transport Studies.
"What I've seen today of the research being done - there is something for everyone in this department. There is work that will influence local authority and national government, and can get businesses thinking about how to improve efficiency and safety.
"I'm confident that Leeds University students will play a huge part in shaping a modern transport system for the future, and I wish them the best of luck with their important work."
Mr Grayling also heard about the University's recently announced major investment in a new Institute for High Speed Rail Engineering. He met Peter Woodward, professor of high-speed rail engineering, and Professor Lisa Roberts, Deputy Vice-Chancellor: Research and Innovation, to discuss its likely impact.
Professor Roberts said: "These are exciting times for transport policy and planning in the UK, and our world-class Institute for Transport Studies is ideally placed to help shape this agenda and deliver innovative solutions.
"The investment in a new Institute for High Speed Rail Engineering at Leeds comes at a time when the UK and other countries are investing heavily in revolutionising their rail networks; in the UK alone the HS2 plans are ambitious and transformational.
"Our new institute will bring together several of our leading research groups in ITS, our Faculty of Engineering, Leeds Institute for Data Analytics and other external partners to develop the engineering, economic and broader inter-disciplinary research programmes that will support the development of a modern railway system in the UK and around the world."
Professor Batley added: "The Institute for Transport Studies is the UK's largest single academic group providing transport courses and training.
"Our new building will enable enhanced interactions between the Institute's students, staff and industry partners; furthering our mission to advance the understanding of transport activity, operations and use, and to develop skills and best practice among transport professionals and decision-makers."
The event was also attended by key industry representatives from HS2, Department for Transport, Transport Systems Catapult, Leeds City Council and West Yorkshire Combined Authority, all of whom work closely with ITS staff and students.