Richard Romano and Gustav Markkula welcomed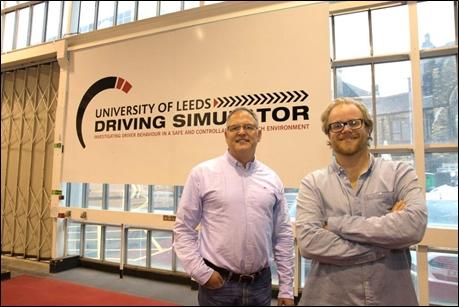 The Institute is pleased to announce the recent appointment of two leading academics in the field of driver behaviour and driving simulation.
Joining the Institute's Safety and Technology Group, Professor Richard Romano and Dr Gustav Markkula will primarily contribute to the research direction and activities of the University of Leeds Driving Simulator and lead the driving simulation work on the Programme for Simulation (PSi) project, one of the Institute's largest research programmes, jointly funded by the Engineering and Physical Sciences Research Council (EPSRC) and Jaguar Land Rover (JLR).
Professor Richard Romano joins ITS from Realtime Technologies, Inc., where he was founder and president of the company for 18 years. Professor Romano has over two decades' experience in designing, building, installing and developing advanced research driving simulators for academic and commercial clients across the globe. He completed his undergraduate studies in Engineering Science and an MSc in Aerospace Engineering, at the University of Toronto, before moving to the University of Iowa to complete his PhD on drive algorithms for large excursion motion bases. Speaking about his appointment, Richard said, "I love being in Leeds. The ITS team is an international powerhouse and I am looking forward to working with everyone. Oh, and the simulator is amazing." As Chair in Driving Simulation, Richard will take a strategic lead in developing the technical capabilities of the motion-based Driving Simulator, which is already the most advanced of its kind in the UK.
Richard is joined by Dr Gustav Markkula who has been appointed as an Associate Professor in the Safety and Technology group. Dr Markkula joins Leeds from Volvo Group Trucks Technology in Sweden, where, for the past eleven years, he has been involved in research and development relating to driver behaviour, driver distraction and active safety; developing prototypes as well as running and analysing on-road and simulator studies. Dr Markkula also has extensive experience in project management, and coordinated the multi-partner FP6 project AIDE, between 2007 and 2008. More recently, he has been focused on mathematical modelling of driver behaviour, and completed his PhD at Chalmers University of Technology in 2015, where he developed driver behaviour models for evaluating automotive active safety. Speaking about his appointment, Gustav said, "At ITS, I see great opportunities for fascinating and fruitful cross-disciplinary research, connecting basic research on human behaviour with applied challenges in traffic safety. I'm especially excited about working with the very talented and ambitious PhD students in the PSi project." Gustav will lead on the PSi project and will explore further opportunities for research on driver behaviour modelling.
Dr Natasha Merat, leader of the Safety and Technology Group at the Institute expressed her immense enthusiasm for the research opportunities now afforded to the Institute and the University of Leeds as a result of these appointments. "We work in a very focussed and specialised research field and there are only a handful of individuals with the sorts of skills that Gustav and Richard can provide, I am therefore really excited that Leeds has managed to appoint not one but two such talented individuals, and I am thrilled about the research and teaching opportunities they will bring to the group and the University in what is a very fast developing and exciting research area".