ITS launches new alumni seminar series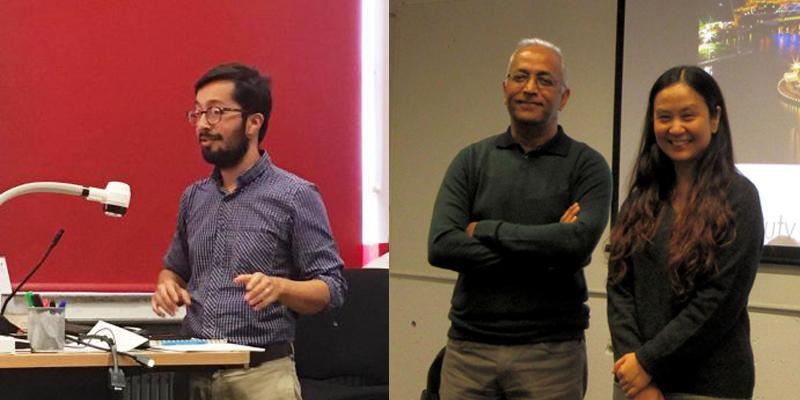 October saw the successful launch of ITS' new alumni seminar series.
The series was developed as a way to expose students to the expertise and knowledge of alumni early into their studies – something which is highly valued by the students, according to feedback.
Speakers range from those who have recently started careers, and so have clear memories of their studies, to those with a wealth of industry experience who are able to showcase what can be achieved and talk about the impact that they have made to society.
The first seminar was delivered by Sebastián Castellanos on 'Electric bus business models for cities in Latin America'. Sebastián graduated in 2014 with an MSc in Transport Planning & the Environment, before returning to industry working across several developing Latin American countries. He later published a paper on his dissertation findings and has now returned to ITS to complete a PhD.
"Having Alumni present to current master students is a great idea as that gives students an insight into three things; potential career paths for them, what work after school might look like, examples of what topics the sector is currently dealing with" Sebastián said about the importance of the seminar series. "I received multiple questions from students during and after the presentation. This showed that they were genuinely interested in the topic. I also had multiple students approach me at the end to have deeper discussions around some of the topics and data I had presented" he added.
The second seminar was presented by alumna Wee Ping Koh, who graduated in 2017 and is now Deputy Chief Specialist (Traffic Engineering) in the Road and Traffic Specialist Subgroup, for the Land Transport Authority in Singapore.
A total of nine seminars are already booked in for semester one, with alumni speakers who will bring experiences from different transport disciplines, and a wealth of industry knowledge from their careers both in the UK and overseas as well as a real passion for transport that they will share with the current cohort of students.
You can find out more about each seminar and the alumni speaker by clicking the links below:
'Transport: modelling, policy and business' – Iosif Stroumtsas, MSc Transport Planning & the Environment
'MATSim – An open-source alternative to transport planning' – Hamish Thomas, MSc Transport Planning
'Shared mobility – Is it a good system for future mobility?, Haruko Nakao, MSc Transport Planning (2016)
'Global Design Sprints on Connected and Autonomous Vehicles', Rachelle de Mesa, MSc (Eng) Transport Planning and Engineering (2016)
'Valuing Urban Realm', Tom Millard, MA Transport Economics (2017)
'A Career in Development for the Transport Professional', Jon Sandford, MSc (Eng) Transport Planning and Engineering (1985)
'Brexit - Logistics operation plans', Servando Mier, MSc Sustainability in Transport (2012)
If you wish to get involved and deliver a seminar to our masters students next year please email.