Immersive technologies become the new reality at Leeds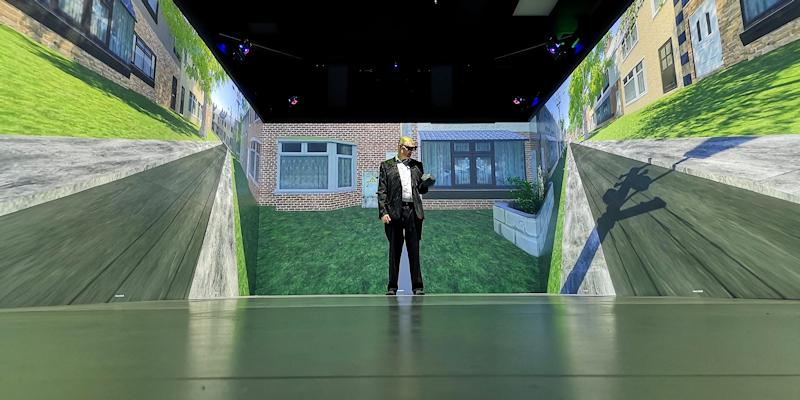 Virtual reality (VR) is becoming the new normal at the University of Leeds, as staff and students working in transport, engineering, the social sciences and health research embrace the technology.
The University has today (Thursday 13th June) launched the new Centre for Immersive Technologies, which will harness the power of immersive technologies, including the simulators that form Virtuocity, to upskill the next generation and push the boundaries of possibilities in research and education.
Mr Coleman Fung, VR entrepreneur and founder of the Fung Institute for Engineering Leadership at the University of California, Berkeley, is giving a keynote speech at the launch today.
Mr Fung said: "Immersive technologies have enormous potential beyond gaming. They will revolutionise the ways we engage with one another and the world around us. How we learn and work, how we experience arts and sports events, how we take care of each other, how we inspire and motivate kids and, most important of all, how we improve lives.
"To realise all these possibilities, we need co-investments and collaborations from academia, governments, and industry. Therefore, it's tremendous that the University of Leeds is taking the lead on this pioneering effort with the research Centre."
Working alongside public and private sector partners, the new Centre for Immersive Technologies aims to create positive changes across society.
Virtuocity will form a key facility for the centre. Providing a world-leading technical platform, Virtuocity leverages research and expertise from across the University, including the Institute for Transport Studies, to lead innovation in the design of urban transport and city systems.
Unveiled today as part of the Centre launch is Virtuocity's new Highly Immersive Kinematic Experimental Research (HIKER) lab – the largest 4K resolution pedestrian simulator in the world.
The HIKER lab joins the University of Leeds Driving Simulator and Truck Sim in Virtuocity and allows participants to interact with virtual urban environments and vehicles without the need to wear any VR equipment.
Virtuocity's three simulation laboratories will be connected to create a single "multi-player" environment enabling researchers to address complex questions including how driverless vehicles will interact with their passengers and with pedestrians.
Professor Richard Romano, the University Chair in Driving Simulation and academic lead for Virtuocity, said: "Immersive technologies are already at the heart of a range of University research. As part of the new centre, Virtuocity provides the technology and expertise to explore and test real-world scenarios using human-centred design methods to inform the future of urban mobility, transport and city planning."
Professor Natasha Merat, the University Chair in Human Factors of Transport Systems, said: "The future of transport is changing rapidly. With the rise of automated transport, such as driverless cars, it is vital that we have the means to safety test how people will interact with the new technology.
"HIKER is the next step in understanding driver and pedestrian behaviour. This technology combined with the other simulators in Virtuocity allows us to create a safe and controllable environment where we can investigate road user's interactions with new "and current transport systems and technologies, ensuring we design future cities that are more enjoyable, sustainable and pleasant to live in."
The simulators in Virtuocity are already integral to a number of projects exploring human factors in transport systems including:
Further information
For more information regarding working on projects exploring human factors in transport systems and Virtuocity please contact Richard Romano R.Romano@leeds.ac.uk or Natasha Merat n.merat@its.leeds.ac.uk