University of Leeds Teaching Awards 2021 winners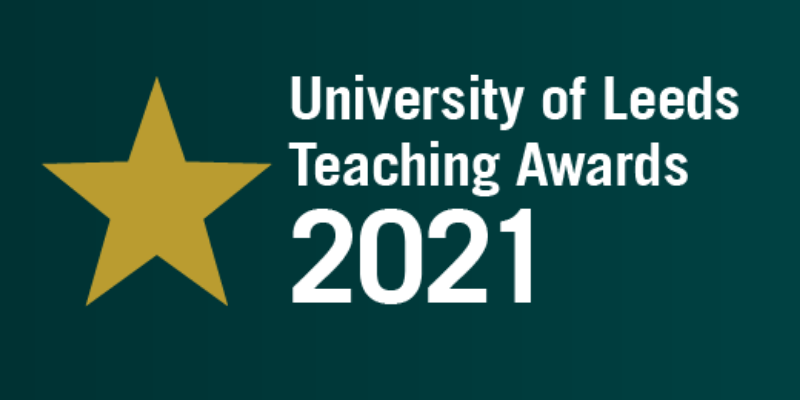 Winners have been announced for the inaugural University of Leeds Teaching Awards.
The awards celebrate excellent practice in student education, as well as the work and innovation of colleagues to deliver high-quality teaching and learning at Leeds.
Applications were received from across the University before being reviewed by a faculty and University panel to determine the winners for each award.
Judges were overwhelmed by the fantastic flare and creativity showcased by applicants across each of the categories, and by the significant impact they demonstrated in enhancing student education. This was considered to be all the more impressive given the challenging circumstances staff and students have faced during the covid-19 pandemic.
Professor Paul Taylor, Dean: Student Education (Experience), said: "It was a pleasure to chair the University of Leeds Teaching Awards panel.
"All the nominees were already winners in their faculties, so the range of excellent practices demonstrated was truly impressive and testimony to the great student experience they provided and sustained during a particularly challenging year. Congratulations to everyone – especially our University of Leeds Teaching Awards winners."
Each of our winners receives a cash award to support professional development or scholarship, a certificate of recognition and an invitation to a celebratory event.
Drs Julie Peacock and Glenda Garelli from the School of Geography, and Dr Joanne Brown, from the School of Food Science and Nutrition, were members of the Faculty of Environment to recieve awards.
A full list of winners appears below, with in-depth profiles – taking a more detailed look at their practice and contribution to student education – being featured on the Student Education Development website in the coming months.
Winners
Sustained Excellence
Julie Peacock (School of Geography, Faculty of Environment)
Alice Shepherd (Accounting and Finance Division, Leeds University Business School)
Dan Trowsdale (School of Mechanical Engineering, Faculty of Engineering and Physical Science)
Early Career Excellence
Salma Al Arefi (School of Electronic and Electrical Engineering, Faculty of Engineering and Physical Science)
Richard Harris (School of Psychology, Faculty of Medicine and Health)
Rachael O'Connor (School of Law, Faculty of Social Sciences)
Collaborative Excellence
Dr Glenda Garelli (School of Geography, Faculty of Environment)
Capstone Projects in Biomedical Sciences (Faculty of Biological Sciences)
Collaboration and innovation to make a step change in provision (Cross University, Careers Service)
Teaching and Learning Enhancement NeTwork (TALENT) (Faculty of Engineering and Physical Science)