Protecting children and communities from aflatoxins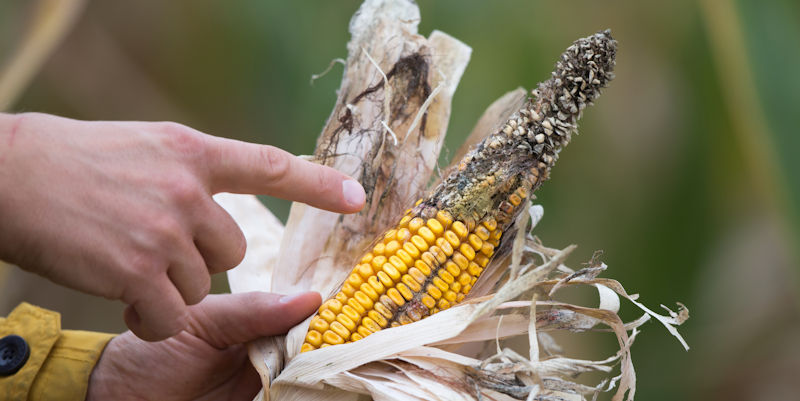 Communities in Africa will be safer from exposure to toxic fungal contamination on staple foods, through research from the School of Food Science and Nutrition. Low cost post-harvest and educational strategies, developed from research led by Professor Yun Yun Gong, have reduced exposure to aflatoxins by 60% in the study population.
Aflatoxins are highly toxic fungal metabolites produced by certain strains of Aspergillus flavus and related species, growing on cereals, nuts and oilseeds. Large parts of sub-Saharan Africa, Asia and Central America are affected by aflatoxin contamination. In 2013, 45% of maize produced in East Africa had to be destroyed due to aflatoxin contamination.
Young children, in their first two years, are particularly affected by exposure to the toxins during breast feeding and weaning. The toxin has also been shown to cross the placental barrier. Exposure can lead to stunted growth and affects the immune system, leading to increased gut infections, diarrhoea and nutrient deficiencies. Acute poisoning can result in liver damage or, in severe cases, prove fatal.
Award-winning research
Aflatoxins expert, Professor Yun Yun Gong, led a series of studies on aflatoxins in Benin, Tongo, Guinea, The Gambia and Tanzania in collaboration with the International Institute of Tropical Agriculture, London School of Hygiene and Tropical Medicine and the Tanzanian Food and Drug Authority. This was funded by a 10-year programme grant of National Institute of Environmental Health Sciences.
The research has explored a range of aflatoxin related relationships such as:
Weaning practices and growth levels
Aflatoxin exposure and growth patterns over time
Low-cost culturally acceptable intervention strategies for subsistence farmers
Aflatoxin exposure in utero and growth faltering in infants
Low-cost measures to reduce contamination, based on the research evidence, include hand-sorting for damaged and moldy seeds and nuts, drying the crops on mats and storing in natural jute bags as an alternative to plastic. Methods of assessing the dryness of sun-dried crops and recommendations for insecticide use to prevent crop damage which encourages the mold, have also been made.
In recognition of her research, Professor Gong was awarded the Consultative Group for International Agricultural Research (CGIAR) outstanding paper of the year award in 2002.
Influencing policy across Africa
Professor Gong's work was used to as underpinning evidence to formulate the Partnership for Aflatoxin Control in Africa (PACA) strategy, published in 2013, which aims to raise awareness in communities, reduce exposure and influence government policy. PACA is the only partnership of its kind in the world, uniting more than 50 organisations from 54 countries in Africa.
PACA have established aflatoxin control action plans, which aim to enhance agricultural development and reduce levels of aflatoxin contamination, throughout 34 African states, including regionally in West Africa and Southern/Eastern Africa. The Prime Minister of Senegal endorsed reduction measures highlighted in Professor Gong's research at the third PACA Partnership Platform Meeting, such as drying on mats and using pallets to raise the drying maize. A direct example of PACA's progress is in Kenya, where The Kenyan Government has invested $15 million (which represents 0.02% of their GDP) across two years from 2015, into initiatives for the prevention, control and management of aflatoxins.
Professor Gong has worked extensively with the East African Communities (EAC), advising policy changes and as lead author on technical reports which have had a direct influence on agricultural policy across the region. In Tanzania, the research was used as evidence for action to secure a $20 million investment from the African Development Fund and Global Agriculture and Food Security Program (GAFSP), which is a part of the World Bank, for the Tanzania Initiative for Preventing Aflatoxin Contamination (TANIPAC). TANIPAC is a five-year project (2018-2023) that aims to improve pre- and post-harvest practices, public knowledge and awareness and to strengthen intuitional capacity including capacity building in policy governance, public health leadership, infrastructure and expertise in aflatoxin testing and risk assessment.
Professor Gong has contributed extensively for key international organisations such as European Food Safety Authority (EFSA), International Agency for Research on Cancer (IARC), Food and Agriculture Organisation (FAO)/ World Health Organisation (WHO) and the UK Department for International Development. She has authored seven mycotoxins risk assessment official documents which provide scientific evidence and recommendations for the EU food safety regulation decision for fusarium mycotoxins limit levels in food and feed in Europe. The FAO/WHO prepared a monograph on safety evaluation of food contaminants, which used Professor Gong's research as evidence for action.