Research project
Diamond Leeds SAXS Facility
Start date: 01 Jun 2018
End date: 31 May 2023
Funder: EPSRC
Value: £1,227,369.98
Partners and collaborators: The Diamond Light Source Ltd: https://www.diamond.ac.uk/Home/About.html
Primary investigator: Professor Michael Rappolt
Co-investigators: Megan Povey Arwen Tyler, Nikil Kapur, Helen Gleeson, Fiona Meldrum, Sheena Radford, Kevin Roberts, Lisa Roberts, Sven Schroeder, Nicholas Warren, Bhoopesh Mishra
External co-investigators: Professor Nick Terrill (Visiting Associate Professor in the School of Chemical and Process Engineering and Principal Beamline Scientist at the beamline I22/DL-SAXS, Diamond)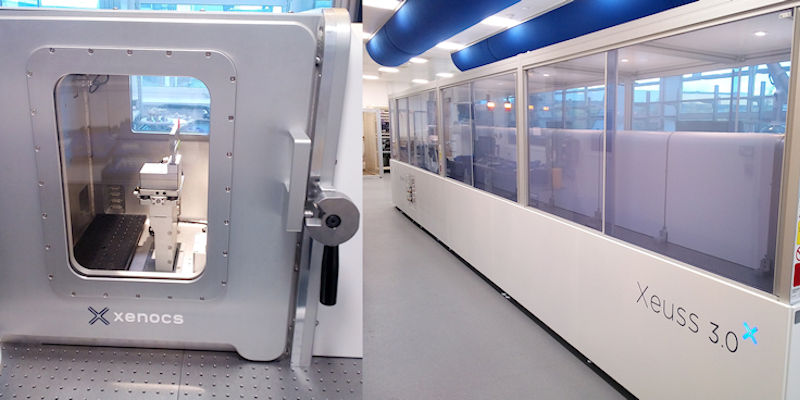 The Diamond Leeds SAXS Facility (DL-SAXS) is a multi-user and multidisciplinary Small- and Wide Angle X-ray Scattering (SAXS/WAXS) research facility located at Diamond Light Source Ltd., on the UK Science and Innovation Campus at Harwell.
Established through EPSRC strategic equipment funding, it is operated jointly between the University of Leeds and Diamond. It provides an access point to an unique leading edge SAXS/WAXS instrument, not only for UoL researchers but also other UK users, providing more than 160 days of experimental beamtime per year.
DL-SAXS serves both fundamental and applied research, including the use for industrial research. The DL SAXS Xeuss 3.0 instrument (Xenocs) is equipped with two high brilliance X-ray sources (a high flux liquid metal jet source (Gallium) from Excillum and micro-source from Xenocs (Molybdenum), scatterless collimation and the newest detector technology (Eiger model from Dectris), allowing an easy and quick set-up of any detector to sample distance within less than a minute, covering an ample spatial range from 0.2 to 500 nm.
Further, a bespoke sample environment allows us to develop, integrate and test novel, versatile sample environments investigating material nanostructures under process and synthesis conditions. Learn more.
Discover more
University of Leeds – Facilities
Impact
DL-SAXS Facility adds capacity to the UK research landscape and opens new perspectives to the UK for a wide range of science, including complex soft matter, polymers, bio-materials and advanced solid materials. These are used in industry sectors comprising pharmacy and healthcare, food, fine chemicals, agrochemicals, information and communications technology (ICT), energy, process engineering and manufacturing.
In terms of economic impact, both the University of Leeds and Diamond Light Source have a long- standing track record in in applied research by collaboration with industrial users, by providing commercial measurement service, as well as by spin-out and creation of IP licences.
The DL SAXS Facility at the Harwell campus benefits further from its integration with the Industrial Liaison Office at Diamond, providing an established and well-advertised route for proprietary industrial access covering 15 different research areas, including Food, Consumer Products, Electronics, Energy, Fuels, Engineering and Healthcare to mention the most relevant areas. Industrial users will further benefit from the integrated Development Lab for designing new experimental methods (combining for instance ultrasound with X-ray scattering) and for developing novel sample-manipulation stages.
In terms of people, access to the multi-user facility and working with the top-class SAXS/WAXS equipment will enhance the professional skills of post doctorial researches and that of PhD students. Our close bonds with 8 EPSRC Centres for Doctorial Training (CDT), for instance with Soft Matter and Functional Interfaces (SOFI2) and for Complex Particulate Products and Processes (cP3) will ensure that early career training will underpin collaboration with the wide range of industrial partners supporting our CDT studentships.
Additionally, throughout the regularly held workshops, industrial collaborators and students national-wide will benefit as part of our research-led teaching programme. In terms of knowledge, the expected top-class research results will affect other academic researchers internationally through their dissemination via publication in high-impact journals and at national and international conferences.
Further, the cross-discipline applicants are active members of various national and international networks that will enhance dissemination even further and provide networking with world-leading scholars of materials science and engineering. In terms of wider societal benefits, the new facility will impact on a wide range of consumer sectors, which are reflected well with the EPSRC themes Physical Sciences, Energy, Engineering, Healthcare Technologies and Manufacturing the Future.
Finally, we will ensure to communicate all established societal and economic benefits enabled by the DL SAXS Facility to policy makers, the wider public, charities and other research funders.
Project website
https://environment.leeds.ac.uk/dir-record/facilities-environment/1659/diamond-leeds-saxs-facility
Grant
Title: Multi-User Facility for SAXS/WAXS Studies on Nanoscale Structures in Controlled Environments.