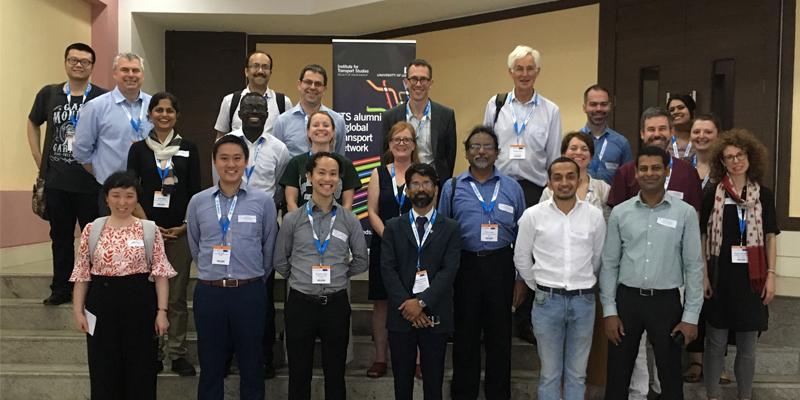 Last month thirteen delegates from the Institute of Transport Studies travelled to Mumbai for the 15th World Conference on Transport Research (WCTR).
Across the five days of the conference the delegates presented or chaired over 230 sessions focused on a range of transport issues.
As part of the conference a small number of awards were handed out, with two going to ITS PhD students.
PhD student, Jeroen Bastiaanssen, was presented with one of only two Prestige Awards. This award comes with a $3000 grant which will allow Jeroen to undertake additional research and write a new paper.
The aim of the Prestige Awards is to inspire PhD students to compete to undertake further transport research.
Masters alumni and current PhD student, Ioanna Moscholidou, was presented with a WCTRS-Y Travel Bursary award.
The purpose of the $1000 bursary is to help attendees with travel or conference costs and is awarded to a small number of people from developed economies and mostly to people from developing economies.
"The application process is simple, and includes a 500 word statement. It was really helpful to receive it and I'm very grateful for this award. I am happy to help people with future applications or share mine" said Ioanna.
Alumni and friends networking event
As part of the conference, the Institute for Transport Studies hosting an informal networking event for alumni and industry partners – welcoming back familiar faces and greeting new ones including Shafiq-Ur Rahman, Sreedevi Kottayil, John Preston, Nishith Chauhan, Kaushali Dave, Syed Rahman, Samuel Adjei Appiah.
"It was a wonderful opportunity to have become a part of WCTR and to have presented in front of world class scholars. I was honoured to have represented ITS Alumni and to demonstrate the research that we had done whilst our Postgraduate studies. It also showcases how much encouragement ITS provides to its students. I am more than proud to be a part of ITS alumni community and am looking forward to much more exciting contributions!" said Sreedevi Kottayil of the conference.
Shalini Sinha, an alumna of MSc (Eng) Transport Planning and Engineering at ITS, and Associate Professor at the Centre for Environmental Planning and Technology, Ahmedabad, was the guest speaker for the evening.
"My advice to ITS international students who are seeking work in the transport sector is to make the most of your time at ITS because it is here that you get a great combination of excellent teachers (who are so accomplished yet so down to earth!), world-class infrastructure and a supportive learning environment" she said.
This networking event has taken place during the last three WCTR conferences around the world and welcomes the global alumni community and is part of a whole series of alumni networking event. The next alumni event is due to take place on November 7th in London – more details to come.