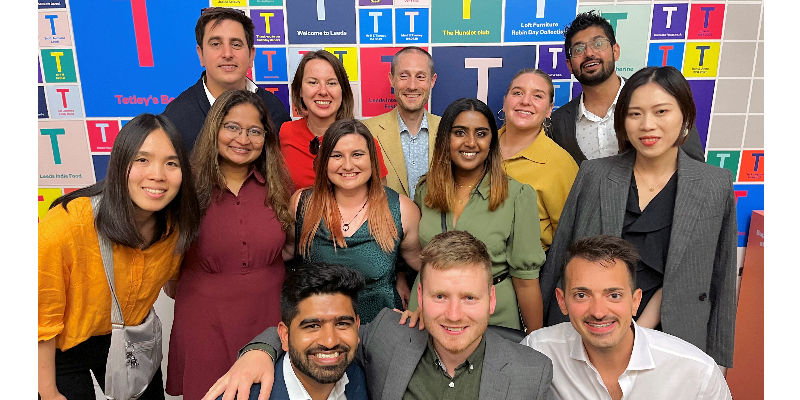 The Institute for Transport Studies celebrates its 50th anniversary with familiar faces from the official opening in 1972 as well as our next generation of transport professionals.
A special 50th anniversary dinner marked the occasion in July 2022 with ITS staff past and present, including all 10 ITS Directors, some especially invited alumni who had engaged in our recent international seminar series & professional mentoring scheme, external advisory board members and other prominent professionals from the sector. It was an honour to welcome back Emeritus Prof Coleman O'Flaherty who was the first Director of the Institute in 1972 and one of the original founders. Coleman left Leeds in 1974 and later become Deputy Vice-Chancellor at the University of Tasmania.
It was with great pleasure that our guest speaker of the evening was recent Transport Planner of the Year Award Winner Prof Jillian Anable.
"No matter where you look, demand management and demand reduction in multiple areas of consumption, not just mobility, is the only way in which societal needs are going to be met justly and successfully. Understanding, modelling, forecasting demand and how it changes is our bread and butter here at ITS.
I suggest that the difference between the last 50 years and the next is that we now need to get to grips and FAST, with the notion of contraction and convergence
...that is, we have to manage demand underneath a perpetually reducing overall cap. We cannot undertake our work assuming that we address social exclusion or other societal deficits and issues by improving accessibility and mobility. There are indeed many who need more of it, not less."
To help us celebrate some of our memorable dates over that last 50 years, we also created a timeline that our alumni, former and current staff contributed significant ITS memories.
<div class="padlet-embed" style="border:1px solid rgba(0,0,0,0.1);border-radius:2px;box-sizing:border-box;overflow:hidden;position:relative;width:100%;background:#F4F4F4"><p style="padding:0;margin:0"><iframe src=https://universityofleeds.padlet.org/embed/6ykd9ybhmwwm0dcx frameborder="0" allow="camera;microphone;geolocation" style="width:100%;height:608px;display:block;padding:0;margin:0"></iframe></p><div style="display:flex;align-items:center;justify-content:end;margin:0;height:28px"><a href=https://padlet.com?ref=embed style="display:block;flex-grow:0;margin:0;border:none;padding:0;text-decoration:none" target="_blank"><div style="display:flex;align-items:center;"><img src=https://padlet.net/embeds/made_with_padlet_2022.png width="114" height="28" style="padding:0;margin:0;background:0 0;border:none;box-shadow:none" alt="Made with Padlet"></div></a></div></div>