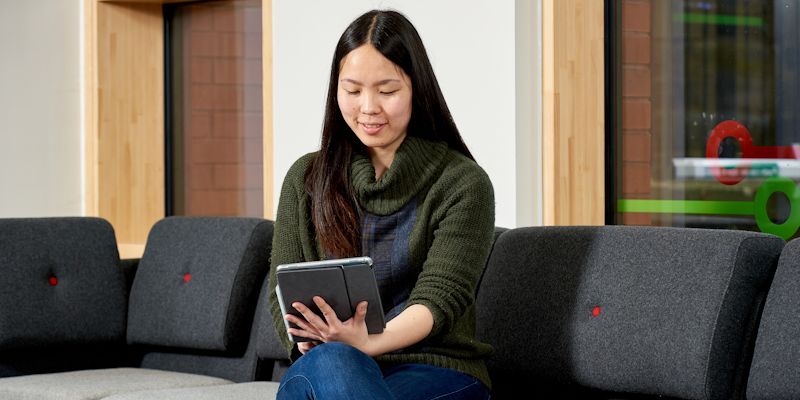 All our Masters courses can be taken on a part-time study basis and completed over 24 or 36 months. Part-time students contribute valuable life and sector experience to the postgraduate community.
Study timetable
As a part-time student, you'll study alongside full-time students. Our lectures and seminars are held during the day and not at evenings and weekends. The academic year is divided into two semesters, the first runs from mid-September to mid-December (with exams in January) and the second semester runs from late January to May (with exams in June).
You'll typically spend two days a week on campus for lectures and seminars, and approximately 125 hours of independent study per module. The days of the week on which lectures and seminars take place depend upon the programme. You may be required to be on campus more than two days a week for certain modules or exams.
Work-life balance
Part-time students usually start their dissertation in the second year of study, and can develop their own topic (usually related to their job/employer) or choose from the list of topics proposed by Institute for Transport Studies staff and industrial partners.
For further flexibility, some optional modules are delivered intensively over 2-5 whole days. These modules can also be taken as individual short courses, as a flexible option for those with work or other commitments which preclude attending the full Masters programme.
If you have a question about part-time study, please contact our admissions team.
Fee sponsorship
If you are planning on continuing an existing job whilst studying part-time, we recommend you discuss your study plans with your employer. Some students secure partial or full fee funding from their employer. There is a strong business case for investing in employees by enabling them to undertake postgraduate training, and we are happy to talk to your employer about this.
Find out about career and employability prospects for our Masters students.
The dissertation
Part-time students are encouraged to develop a dissertation topic that is closely linked to a workplace issue or project. Access to data and organisational expertise means that these dissertations can be an ideal combination of theory and practical application.
Unlike for full-time students, where the dissertation is completed in a three month block, the part-time dissertation can be developed over a year or more.
Assessment - coursework and exams
The deadlines for submitting coursework assignments are set for each module, so are the same for full and part-time students. The same is true for exams, which are held in two blocks at the end of each semester. Please note that you may need to attend up to an extra four days per year for exams.
Other assessments, such as presentations, take place during normal teaching slots, plus there are specific assessments connected to the dissertation. Coursework can be submitted online, so you are not required to travel to campus to hand in your work.
How to apply
The application process is the same as for full-time study, but there are differences when it comes to referees. For full-time study we ask for two academic references, which are typically recent university tutors. For part-time study there is the option to submit one academic reference and one employer reference, or two employer references if more appropriate.
To apply, visit our course pages.