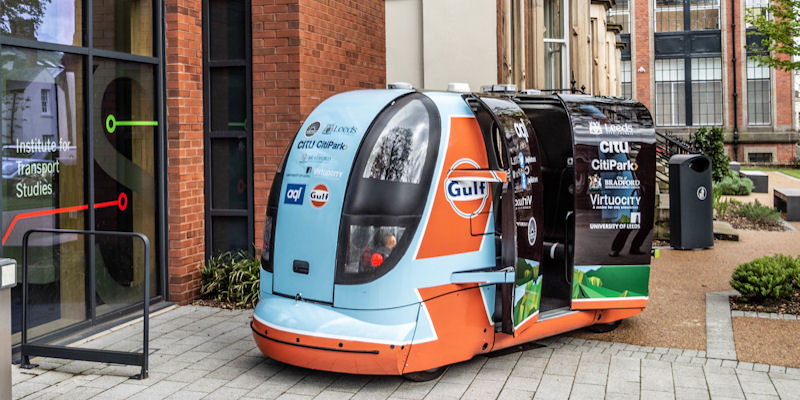 The Insitute of Transport Studies works to provide our external partners with insight and a competitive edge. It does so by providing access to a combination of facilities, world-leading transport research and key academic expertise which can accelerate the creation of innovative solutions.
We offer a wide range of services to industry, government agencies and not-for-profit organisations.
Framework agreements with call off research
Framework agreements provide a structured contractual basis for an ongoing relationship through which we can understand the needs of your organisation. A framework agreement is helpful not only to formalise an arrangement, but also to streamline the process for commissioning one-off ad-hoc work.
Consortium partnerships for applying for competition funding
This relationship may be a one-off project in response to a single specific funding opportunity, but may indeed be set up as part of a wider ongoing agreement. Understanding the interests and priorities of each of our partners and contacts ensures that we can be agile and responsive to your needs and to new opportunities.
For further information about frameworks and partnerships please contact:
Erik Thomasson, Research and Innovation Development Manager
e: e.n.thomasson@leeds.ac.uk
t: +44 (0)791 0647626
Strategic Partnerships
Strategic Partnerships create long-term relationships that can be exploited over time across a range of tactical interactions. They provide an opportunity for the development of large-scale collaborative research projects and knowledge transfer through long-term commitment from both researchers and the partner organisation. Partner benefits include:
Framework agreements for joint research. This allows for streamlining of the approval process - saving both time and money.
Preferred Partner status. If your organisation uses the Institute of Transport Studies as your primary research resource, you will be given first refusal to fund research ideas relating to your business.
Our current strategic partners include: Transport Systems Catapult, ARUP, Transport for London, West Yorkshire Combined Authority, Leeds City Council
Project Specific Partnerships
These are shorter term arrangements designed to take advantage of specific opportunities.
Consultancy
Our consultancy services provide direct access to the cutting-edge knowledge and skills of leading academics at the University of Leeds and to outstanding research facilities (such as Virtuocity, the University of Leeds Driving Simulator and Leeds Institute for Data Analytics (LIDA).
Consultancy can be undertaken within one of our five research groups or by teams spanning these groups to fit your specific business requirements.
As well as the skills within The Insitute of Transport Studies, we can also draw in wider expertise from across the University as and when required. The University of Leeds is particularly proud of the breadth and depth of expertise we possess which makes us better able to tackle cross-disciplinary challenges than perhaps any other UK University. We can offer a broad range of consultancy services in transport including:
Analytical Services
Expert witness services
Feasibility studies
Interpretation/analysis of data
Numerical modelling
Product development
Technical and strategic advice
Testing and use of specialist equipment
Evaluation of sustainable business and corporate responsibility activities
Development of consumer focused sustainability behaviour change interventions
Economic evaluation
We are happy to develop bespoke services to suit your requirements.
For general enquiries on consultancy, please contact:
Erik Thomasson, Research and Innovation Manager
e: e.n.thomasson@leeds.ac.uk
t: +44 (0)791 0647626