Climate-smart agriculture for sustainable farming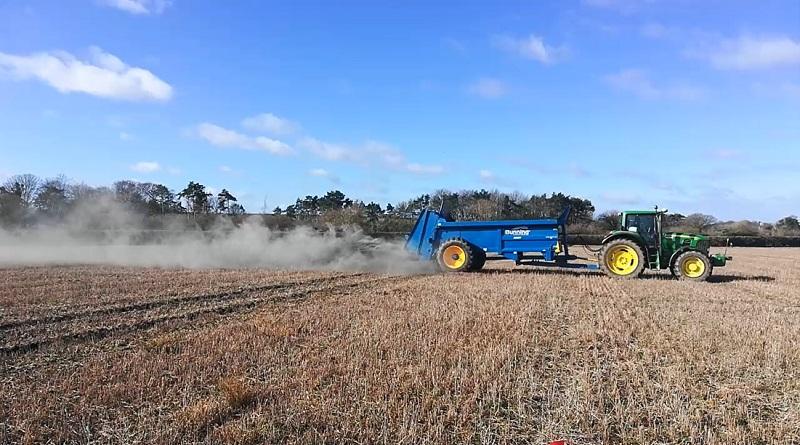 The potential for farmers to protect their soils and make smarter, region-specific agricultural management choices is being advanced through the research of Dr Marcelo Galdos, a Met Office Academic Fellow at the University of Leeds.
Agricultural systems with the potential to sequester carbon are being investigated by Dr Galdos in an effort to reduce the environmental footprint of food production. By applying the technologies, the aim is for farmers to secure sufficient yields and even increase them facing future climate conditions.
Using field measurements and 'biogeochemical modelling,' Dr Galdos creates a picture of the impact of current and future land use and climate on crops and soils. This is achieved by combining data obtained from sensors in the ground with digital representations of agricultural systems. The results make it possible to understand how agriculture can be more climate-resilient and contribute to climate change mitigation.
"We apply models that can paint a picture of land cover and its dynamics and estimate how crops could be affected by future climate scenarios," said Dr Galdos. "The results can be used to both reframe how agricultural systems are managed by farmers and to give incentives that encourage more sustainable farming methods."
The results can be used to both reframe how agricultural systems are managed by farmers and to give incentives that encourage more sustainable farming methods.
Crop modelling in Brazil
In semi-arid North East Brazil, subsistence farmers growing staple crops, such as maize and beans, face recurring droughts. This causes significant social and economic problems including mass migration to urban centres. In other regions of the country, commercial farmers need reliable information on potential yields to make decisions about sugarcane, a crop that allows Brazil to have one of the largest renewable energy programmes in the world.
Modelling Brazil's major crops in current and future climate scenarios is the focus of research led by Dr Galdos as part of his role on the Climate Science for Service Partnership (CSSP), a Met Office and Newton Fund programme.
Near real-time data on soil moisture conditions from an extensive sensor network in the Brazilian semi-arid region is integrated with crop biomass data from remote sensing. The National Centre for Monitoring and Early Warning of Natural Disasters (CEMADEN), which provides the sensor network, is a partner on the project. Dr Galdos then models the data to estimate crop yields and give support to farmers.
Other partners in the project include the UK Centre for Ecology and Hydrology (UKCEH), the Hadley Centre at the Met Office, and the University of Sao Paulo, a centre of excellence in agricultural research in the tropics.
Protecting African soils
African farmers have multiple and sometimes conflicting uses for crop residues, which can be used for cooking, building materials or feeding animals. Removing the straw reduces the potential for carbon sequestration and exposes the soil to erosion. So it is a challenge, especially in the dry season, to nourish the livestock while also protecting the soil.
Dr Galdos helps to identify where soils are most vulnerable to extreme weather events and how to protect them by working with the Lilongwe University of Agriculture and Natural Resources (LUANAR) in Malawi to assess soil health in conventional and conservation systems. The work is part of a GCRF-AFRICAP project with fieldwork in Northern Malawi. Soil and crop modelling on the project sheds light on carbon and nitrogen dynamics in contrasting land management systems, and the team use geospatial analysis to upscale the results. They will also apply trade-off analysis to support farmers in deciding how much straw to remove depending on environmental and economic aspects.
Smarter land management in the UK
Climate-smart agriculture is key to reaching Net Zero targets in the UK. To help drive this goal, Dr Galdos is working with UK research partners and government agencies to improve sustainability for farmers. He is part of a team using geospatial analysis ito model land use across the Yorkshire region through the Yorkshire Integrated Catchment Solutions Programme (iCASP). Giving insights into how soil management can reduce environmental pollution from agriculture is an outcome of the project. Managing soil differently could enhance its potential to sequester carbon, and farmers could be given guidance on how to improve their practises from the results of the research.
As part of the UK Climate Resilience Programme, through NERC-funded research, Dr Galdos is applying models to assess the impacts of climate change and variability on outdoor pig production, as well as the mitigation potential of increasing crop-livestock integration. He is working with Professors Pippa Chapman and Steve Banwart to measure and model greenhouse gas fluxes, soil carbon and nutrients at a highly instrumented experimental farm.
A new framework for testing the impact of changes to land use, management and climate in the UK is being developed through recent research by Dar Galdos and partners. It has been applied from farm to regional scales as part of a Science and Technology Facilities Council (STFC) Food Network+ (SFN)-funded project in collaboration with ADAS, UKCEH and University of Hertfordshire. Dr Galdos explores the integration of remote sensing, machine learning and soil surveys to estimate long-term trends in UK soil carbon stocks on the project.
Contact us
If you would like to discuss this area of research in more detail, please contact Dr Marcelo Galdos.